Source: Publisher
Hardcover, 245 pgs.
I am an Amazon Affiliate
Hotel on Shadow Lake by Daniela Tully is a WWII tale that has roots in WWI and surpasses all of that history in its tale of enduring love, family bonds, and secrets. Young bookstore owner, Maya Wissberg, has felt adrift since her grandmother disappeared after she went on a study abroad trip and left no indication as to why she left or to where. It is not until the police in upstate New York come calling about her grandmother's remains that Maya begins to rethink her relationship with her father, grandmother, and ex-boyfriend Michael. Tully takes us back into the past when her grandmother, Martha, meets a young German she pegs as the bad influence in her twin brother's life.
"Maya was completely and utterly lost, cursing herself under her breath." (pg. 67)
As the Nazis came to power, many Germans were caught up in the fervor of nationalism, including Martha's brother, but Martha was a stronger woman who saw the writing on the wall. Eventually she found a kindred spirit in her brother's friend, even though he warned her away from becoming involved with the resistance, which was still in its infancy in the late 1930s. Readers will lose themselves in Martha's story as it is woven slowly to reveal how first impressions can be stripped away by truth and trust. Maya's story disappears in the background for a while, until the reader returns to the present.
Maya has aviophobia, but this seems like a fear that she can overcome through determination. Her episodes on the plane over to the United States from Germany are barely seen, and for the amount of time Maya talks about the phobia, readers may want to see more of how she coped with it. In a way, this seemed like an unnecessary detail or a device that was used simply to explain why she had never gone many places. This is a small concern.
Hotel on Shadow Lake by Daniela Tully is a strong debut that delves into the climate in Germany at a time when nationalism and fascism was on the rise. It depicts a chaotic world for the German people, but also a world in which hope can turn into something disastrous quickly. At its heart, the debut novel is about the enduring power of love and the beauty of forgiveness.
RATING: Quatrain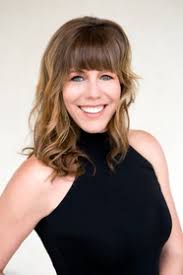 About the Author:
DANIELA TULLY has worked in film and television for decades, including with famed film director Uli Edel. She has been involved in projects such as the critically acclaimed Fair Game, box-office hits Contagion and The Best Exotic Marigold Hotel, as well as the Oscar-winning The Help. She splits her time between Dubai and New York. Inspired by a real family letter received forty-six years late, Hotel on Shadow Lake is Daniela Tully's first novel. Visit her website, Facebook, and Instagram.