Mailbox Mondays (click the icon to check out the new blog) has gone on tour since Marcia at A Girl and Her Books, formerly The Printed Page passed the torch. This month's host is Unabridged Chick.
The meme allows bloggers to share what books they receive in the mail or through other means over the past week.
Just be warned that these posts can increase your TBR piles and wish lists.
Here's what I purchased at a recent library sale:
1.  Sense & Sensibility by Jane Austen, hardcover for $1 as my copy mysteriously disappeared.
Marianne and Elinor Dashwood are sisters. Marianne always acts impulsively, while Elinor is painfully sensitive to social convention. When each falls in love, they come to realize that sense must mix with sensibility if they are to find happiness. First published in 1811, Sense and Sensibility inaugurated the brilliant career of one of the world's most beloved literary figures and ranks among her most popular novels.
2.  Lizzie's War by Tim Farrington for 50 cents.
A family epic laced with authenticity, wit and unforgettable characters. Liz O'Reilly has a husband in Vietnam, 4 kids under the age of 12 (and one on the way), and a burgeoning crush on the family priest. An unconventional love story.

It's Summer 1967 and Mike O'Reilly's just shipped out to Vietnam. Liz O'Reilly is trying to keep it all together for their four kids – 6 year old Deb–Deb (who believes she is an otter), 8 year old Angus, Kathie, (who at age 9 helps to integrate the local Blue Bird troop with her best friend Temperance), and 11 year old Danny – the spitting image of Mike. While Mike is off fighting "his" war, Liz struggles with her own desires and yearnings – to pick up the theatre career she abandoned when Danny was born, to care for the four children she loves fiercely yet also occasionally resents, to leave the backdoor unlocked so she always has an escape route. While set during the conflict in Vietnam, Farrington's novel captures the other side of any war – that of the war at home and the careening emotions of the spouses and families left behind.
3.  Martha Peake by Patrick McGrath for 50 cents.
When Ambrose Tree is summoned by his ancient uncle to the brooding mansion Drogo Hall, he suspects it's to hear the old man's dying words and then collect a sizable inheritance. He has no idea he is about to learn the bizarre story of Harry Peake, Cornish smuggler turned poet who became a monster capable of the most horrifying acts. Or that he's about to become psychologically enmeshed in the riveting life of Harry's daughter, Martha, who flees her father for colonial America where she becomes a heroic figure in the revolution against England. Or that he himself has a crucial role to play in this mesmerizing tale as it rushes headlong and hauntingly toward its powerful climax. Martha Peake is a spellbinding alloy of Gothic mystery and historical romance.
4.  Empress by Shan Sa for 50 cents.
In seventh-century China a young girl from the humble Wu clan entered the imperial gynaecium, housing ten thousand concubines. Inside the Forbidden City, she witnessed seductions, plots, murders, and brazen acts of treason – but shrewdly masterminded her way to the ultimate position of power. From there she instigated positive reforms in government and culture. And yet, from the moment of her death to the present day, her name has been sullied, her story distorted, and her memoirs obliterated by men taking vengeance on a women who dared become Emperor. This amazing historical novelization reveals a fascinating, complex figure who in many ways remains modern to this day.
5.  Cookie Countdown by Sarah Albee and Tom Leigh for 50 cents.
Cookie Monster couldn't be happier! He's got five yummy cookies to eat. But Cookie just can't help but share his sweet treats with his friends. Just when it looks like there won't be any left for Cookie, his friends deliver a delicious surprise. Young readers will not only enjoy counting with Cookie & learning about sharing, they'll also have fun shaking Cookie Monster's Googly Eyes.
6.  Curious George by H.A. Rey and Margret Rey for 25 cents.

In this, the original book about the curious monkey, George is taken from the jungle by the man in the yellow hat to live in a new home, but–oh, what happened! Though trying to be good, George is still very curious and takes a swim in the ocean, escapes from jail, and goes for a flying ride on a bunch of balloons. This treasured classic is where it all began for the curious, loveable monkey and is a must have for any children's book collection.
7.  On Sesame Street by Renee Tawa for 50 cents, it folds out into a full street of characters and you can press Elmo's nose and he will sing the theme song.
The Elmo Fold-Out Play-a-Sound Book folds out horizontally to reveal an Elmo and Sesame Street story on 10 sturdy cardboard pages. Designed for children ages 18 months and older, the interactive book features Elmo s face in 3D on the front cover. Kids press his nose to hear a lively excerpt from the Sesame Street Theme song.

Song lyrics are displayed on the fold-out pages, enabling kids to sing along. Illustrated snapshots and captions on each page feature Elmo, Zoe, Ernie, Bert, and other Sesame Street friends as they stroll down Sesame Street, with stops at the fire station, Big Bird s nest, and Hooper s Store. Several prompts ask kids questions about the things they see on the pages.
These are for review:
8.  Thinking of You by Jill Mansell for review in May from Sourcebooks.
When Ginny Holland's daughter heads off to university, Ginny is left with a severe case of empty nest syndrome. To make matters worse, the first gorgeous man she's laid eyes on in years has just accused her of shoplifting. So, in need of a bit of company, Ginny decides to advertise for a lodger, but what she gets is lovelorn Laurel. With Laurel comes her dangerously charming brother, Perry and the offer of a great new job, and things begin looking up…until Ginny realizes that her potential boss is all too familiar. Is it too late for Ginny to set things right after an anything but desirable first impression?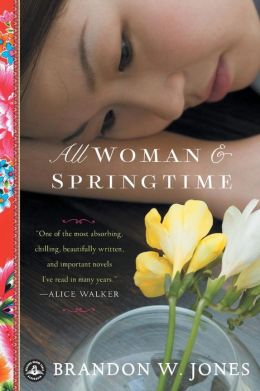 9.  All Woman and Springtime by Brandon W. Jones, unsolicited from Algonquin Books, which will be new in paperback in March.
Before she met Il-sun in an orphanage, Gi was a hollow husk of a girl, broken from growing up in one of North Korea's forced-labor camps. A mathematical genius, she learned to cope with pain by retreating into a realm of numbers and calculations, an escape from both the past and the present. Gi becomes enamored of the brash and radiant Il-sun, a friend she describes as "all woman and springtime." But Il-sun's pursuit of a better life imperils both girls when her suitor spirits them across the Demilitarized Zone and sells them as sex workers, first in South Korea and then in the United States.
10.  Fox Forever by Mary E. Pearson from Shelf Awareness.
Locke Jenkins has some catching up to do. After spending 260 years as a disembodied mind in a little black box, he has a perfect new body. But before he can move on with his unexpected new life, he'll have to return the Favor he accepted from the shadowy resistance group known as the Network.

Locke must infiltrate the home of a government official by gaining the trust of his daughter, seventeen-year-old Raine, and he soon finds himself pulled deep into the world of the resistance—and into Raine's life.
What did you receive?