Mailbox Monday has become a tradition in the blogging world, and many of us thank Marcia of The Printed Page for creating it.
It now has its own blog where book bloggers can link up their own mailbox posts and share which books they bought or which they received for review from publishers, authors, and more.
Thank you to Velvet for stepping in when Mailbox Monday needed another host.
Emma, Martha, and I also will share our picks from everyone's links in the new feature Books that Caught Our Eye. We hope you'll join us.
Here's what I received:
Above Ground by Clint Smith for the Gaithersburg Book Festival.
Clint Smith's vibrant and compelling new collection traverses the vast emotional terrain of fatherhood, and explores how becoming a parent has recalibrated his sense of the world. There are poems that interrogate the ways our lives are shaped by both personal lineages and historical institutions. There are poems that revel in the wonder of discovering the world anew through the eyes of your children, as they discover it for the first time. There are poems that meditate on what it means to raise a family in a world filled with constant social and political tumult. Above Ground wrestles with how we hold wonder and despair in the same hands, how we carry intimate moments of joy and a collective sense of mourning in the same body. Smith's lyrical, narrative poems bring the reader on a journey not only through the early years of his children's lives, but through the changing world in which they are growing up—through the changing world of which we are all a part.
Disbound by Hajar Hussaini for Gaithersburg Book Festival.
Hajar Hussaini's poems in Disbound scrutinize the social, political, and historical traces inherited from one's language. The traces she finds—the flow of international commodities implied in a plosive consonant, an image of the world's nations convening to reject the full stop—retrieve a personal history between countries (Afghanistan and the United States) and languages (Persian and English) that has been constantly disrupted and distorted by war, governments, and media. Hussaini sees the subjectivity emerging out of these traces as mirroring the governments to whom she has been subject, blurring the line between her identity and her legal identification. The poems of Disbound seek beauty and understanding in sadness and confusion, and find the chance for love in displacement, even as the space for reconciliation in politics and thought seems to get narrower.
Sound Fury by Mark Levine for Gaithersburg Book Festival.
Throughout

Sound Fury

, poems by metaphysician Robert Herrick are refashioned into phantasmagorical oddities of likeness and difference. Figures from the fringes of popular imagination—Zane Grey, Robinson Crusoe, Porfirio Díaz—surface as cobbled-together avatars on the theme of identity. Brilliantly asserting the necessity of humane and resistant modes of speech against the vapid sounds and enforced silences of orthodoxy,

Sound Fury

finds the poet "Now, in our former state/ In our current one/ In stately procession," venturing forth in a world "where things of questionable being go."
The Pause and the Breath by Kwame Sound Daniels for Gaithersburg Book Festival.
This book is an answer to the American Sonnet. Through the structure of the sonnet, the pause and the breath explores the boundlessness that is the experience of xir black transness. Though laden with imagery, each sonnet remains a narrative that develops into an overarching narrative of wholeness. In this book, Kwame Sound Daniels urges the reader to pause and breathe through facets of personal identity.
Kisses at the Espresso Bar by Anita Nahal for Gaithersburg Book Festival.
Kisses at the expresso bar showcases the prolific poetic style of Anita Nahal as a true virtuoso of the English language. She performs word magic in each ekphrastic prose poem, transforming the visual into the verbal, creating caramelized associations that stick to one's soul. Her sense and sensibility echo the famous quote from Antoine de Saint-Exupery's The Little Prince that "only the heart can see rightly; what is essential is invisible to the eye."—Dr. Gerrit Dielissen, Professor of Sociology, Utrecht University, the Netherlands"All dressed and out. High heels tick-ticking between hide, membrane, cloth. Barely touching, just hinting. So were the shades and lights, and the froths in the cups and the cakes, and the sugars and the creams. Swirling like sips in the dips of the lips and the hips. Seemingly in an animated conversation…." (From the poem, "Kisses at the espresso bar")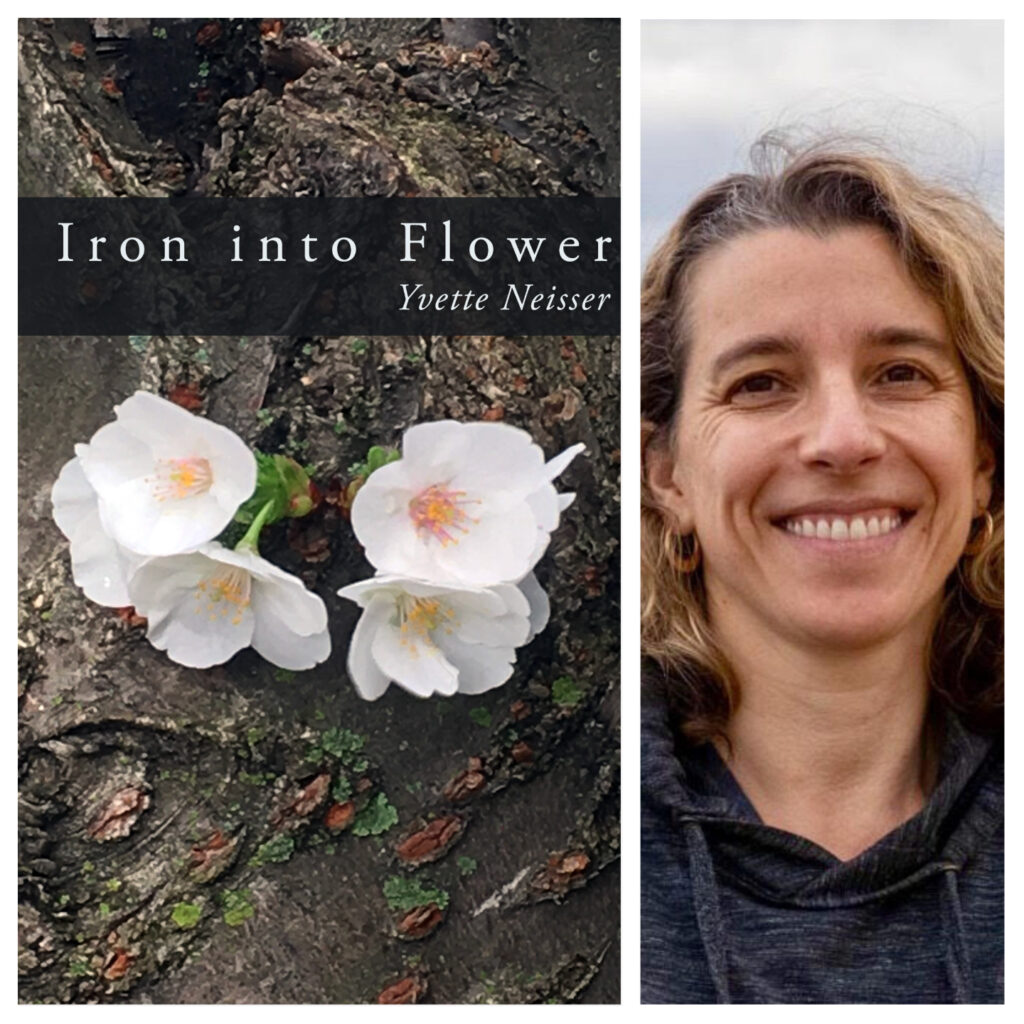 Iron Into Flower by Yvette Neisser for Gaithersburg Book Festival.
"You must change your life, / say the rabbis of old" begins a poem from Iron into Flower, Yvette Neisser's second collection. Like those rabbis, Neisser's deceptively simple poems pose age-old questions about memory, identity, love, faith, and morality. And when calamity strikes-a death, an auto accident, a divorce-the poems' speaker, also named "Yvette Neisser," does indeed change her life, reclaiming her body, her identity, even her name. Timeless rituals-the sun's arc, the passing of the seasons, the quiet pleasures of making tea and flipping tortillas-help reassure even the most troubled souls who haunt these poems. Neisser writes, "Bless us all, the whole imperfect lot of us." And she means it: these are poems of healing and grace.-Katherine E. Young, author of Woman Drinking Absinthe, Poet Laureate Emerita, Arlington, VA

Iron into Flower doesn't pull any punches as we readers are drawn into a landscape of loss: Auschwitz, Gaza, the body, first loves, and even depression's loss of color, as 'orange and red cascade/ and crumble into brown, / then earth, / then bareness.' In these moving and rhythmic texts where Neisser's children's faces are 'all that matter, ' the poet finds beauty and strength in her yearning to 'learn the shape of faith.'-Nancy Naomi Carlson, Author of An Infusion of Violets

I relished this dual-journey of a book, where mother traverses the Deep South in the mid-sixties on her way to Mexico. But also landscapes of memory-a hike with father, where "the years have etched rings around my life"-in poem after poem the arresting passage of time; or a kind of lifespan within a single poem, from "the pull of oars up the quiet river…to "the closing of eyelids." But we also encounter work that doesn't flinch in the face of harrowing histories-pieces that "shine a mirror inside [our]selves / examine [our] flaws." In short, the stuff of art-this gorgeous arc that doesn't shy from "digging deep."-Francisco Aragón, author of After Rubén, Director of Letras Latinas
Accomplished by Amanda Quain, purchased from Audible.
It is a truth universally acknowledged that Georgiana Darcy should have been expelled after The Incident with Wickham Foster last year—at least if you ask any of her Pemberley Academy classmates. She may have escaped expulsion because of her family name, but she didn't escape the disappointment of her big brother Fitz, the scorn of the entire school, or, it turns out, Wickham's influence.

But she's back for her junior year, and she needs to prove to everyone—Fitz, Wickham, her former friends, and maybe even herself—that she's more than just an embarrassment to the family name. How hard can it be to become the Perfect Darcy? All she has to do is:

Rebuild her reputation with the marching band (even if it kills her)

Forget about Wickham and his lies (no matter how tempting they still are), and

Distract Fitz Darcy—helicopter-sibling extraordinaire—by getting him to fall in love with his classmate, Lizzie Bennet (this one might be difficult…)

Sure, it's a complicated plan, but so is being a Darcy. With the help of her fellow bandmate, Avery, matchmaking ideas lifted straight from her favorite fanfics, and a whole lot of pancakes, Georgie is going to see every one of her plans through. But when the weight of being the Perfect Darcy comes crashing down, Georgie will have to find her own way before she loses everything permanently—including the one guy who sees her for who she really is.
What did you receive?