Source: TLC Book Tours
Paperback, 244 pgs.
I am an Amazon Affiliate
Water on the Moon by Jean P. Moore is a spiral of mystery in which Lidia Raven, the mother of teenage twin girls, has her life upended by a pane that crashes into her family home.  Raven's life already had jolted off track when her husband left her for another man, and she chose to parent her children on her own, leaving a prosperous career for the suburbs.  Behind the home, the apple orchards stand guard, watching over the new generations as the previous generations' secrets remain hidden in passages beneath the house and among the surviving generations.  With nods to Byron's poetry and to the bravery and passion of Amelia Earhart, Moore's prose is winding, meandering through Lidia's concerns about her daughters, her obsessions with the flyer who crashed into her home, and her difficulty in letting go of her past life with her husband.  Her neighbor, Polly, takes the Raven family in as the house is restored and the FBI investigation wraps up, and this woman is a sage, offering sound advice to those willing to listen.
Since the breakup of her ideal family, Lidia has spent a lot of hours worrying about when the next shoe would drop and upend her world again.  She's been in protectionist mode for far too long, and with help from Polly, she learns to be more open and more flexible, but she also has to face some of the ghosts in her family's past.  While the intricacies of the family mystery are interesting and the pilot's obsession with Earhart are engaging, the main story often gets lost in the references to Byron and to Earhart.  The story would have felt less distant if the reader could have connected closer with Lidia and her heartbreak.
Water on the Moon by Jean P. Moore offers tidbits of conflict that are resolved either too quickly or barely resolved.  Lidia is a character that seems underdeveloped emotionally, and while the daughters are on the periphery, they have greater depth.  Lidia's character falls in love too quickly, is easily spooked, and has a stubborn streak when her heart is broken.  Without Polly, Lidia would have plugged along in her life without making any real changes, and in this way, she redeems the novel for this reader.  Polly's life is fascinating, and her sage advice will remind readers of those grandmothers who carefully steer loved ones in the right direction.
About the Author: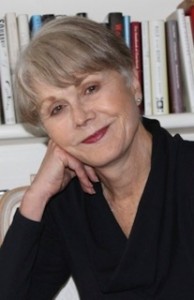 Jean P. Moore began her professional life as an English teacher, later becoming a telecommunications executive. She and her husband, Steve, and Sly, their black Lab, divide their time between Greenwich, Connecticut and the Berkshires in Massachusetts, where Jean teaches yoga in the summers.
Her work has appeared in newspapers, magazines, and literary journals such as upstreet, SN Review, Adanna, Distillery, Skirt, Long Island Woman, the Hartford Courant, Greenwich Time, and the Philadelphia Inquirer. Water on the Moon was published in June of 2014 and won the 2015 Independent Publishers Book Award for Contemporary Fiction. Visit her on her website, on her blog, and Twitter.