Source: TLC Book Tours
Paperback, 128 pgs
I am an Amazon Affiliate
Stencil Craft: Techniques for Fashion, Art & Home by Margaret Peot is a gloriously laid out how-to guide for stenciling on fabric and other materials, and Peot outlines what tools work best and how to choose the best brushes and materials for making stencils.  She says in the introduction, "In this book you will make your mark literally — using stencil techniques to paint on clothes, paper, and home furnishings for fashion, interior design, art, and crafting."  However, she does warn, "while experimenting with the projects in this book, you will make some beautiful things and some ugly things."  (page 7)
My husband is the more crafty one when it comes to art, though I've done some pastel drawings and some collage in scrapbooks previously, but this book was a way that our family could create something together.  With the gorgeous examples in the book, it was very hard to decide, but we ultimately chose to do a project with found items, which can be those found outside, like feathers and leaves, or just stuff from around the house like ribbon, lace trim, or other items. Then, after rummaging around the house and looking at the stuff we had, we changed our minds. Obviously, this is a book that can generate a ton of ideas.
Finally, we decided to create a board that our daughter could use for her achievements, like her swim ribbons and her medals from soccer, etc. We wanted to create something with stencils and acrylic that she could use. However, rather than cut out our own stencils, we bought some we liked to try out; we'll probably be more adventurous later when we redo the kitchen cabinets.
You can see the progression and results we had for our first time. We thought that the instructions about picking out brushes and paints was pretty straightforward. The techniques for brushing on the paint was relatively easy to follow, though it seems that we were both using different techniques on the same project. The overall result is good, but I think we'll need a little more practice before we tackle a larger project. Stencil Craft: Techniques for Fashion, Art & Home by Margaret Peot will have us busy for some time, and I think theses are some great projects for families to do together or even to teach little ones. I'll be sharing this book with both my husband and daughter for sure.
There are two giveaways with this review, one through Rafflecopter, and one for a single copy of the book to a U.S. resident.
So please do enter both. Leave a comment about what kinds of stencil projects you'd be interested in doing in the comments for your chance to win a copy of the book.  Enter by July 12, 2015, 11:59 PM EST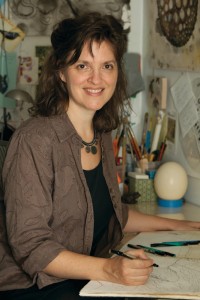 About the Author:
Margaret is an artist, writer and costume painter. Margaret's book Inkblot: Drip, Splat and Squish Your Way to Creativity (Boyds Mills 2011) was awarded a Eureka! Silver Medal for non-fiction children's books. She is also the author of The Successful Artist's Career Guide (F&W 2012), Alternative Art Journals (F&W 2012), and Make Your Mark (Chronicle Books, 2004), voted one of Library Journal's best how-to books of 2004. She is looking forward to the publication of two new books in 2015, Stencil Craft (F&W) and an early reader picture book, Crow Makes a Friend (Holiday House).
Margaret has painted costumes at Parsons-Meares, LTD for more than twenty years. Projects include Broadway (Aladdin, The Lion King, Wicked, Turn Off the Dark, Will Rogers Follies, Shrek the Musical, Phantom of the Opera, Mary Poppins, among many others), dance (ABT, Joffrey Ballet, Pilobolus, Feld Ballet, Nevada Ballet), film (Bram Stoker's Dracula), as well as for circuses, arena shows and ice shows. For more information, please visit her websites: MargaretPeot.com and TheInkBlot.com.
Enter the Rafflecopter Giveaway: