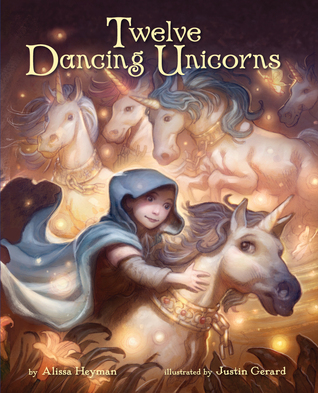 Source: Sterling Children's Books
Hardcover, 32 pages
I am an Amazon Affiliate
Twelve Dancing Unicorns by Alissa Heyman, illustrated by Justin Gerard, is gorgeously illustrated. Like paintings that leap off the page by some magical power, these unicorns will dance into the hearts and dreams of any little girl.  Heyman adapts her fairytale from Grimm's "Twelve Dancing Princesses," and here the little girl loves the unicorns so much that she is willing to help them in any way she can.  When the King says that he will grant any wish to the person who finds out how the chains are broken each night by the unicorns in his corral, she is determined to do just that.  While there are few obstacles in the girl's way and the text can be in huge paragraphs for little kids, Heyman does a great job of showing the girl's determination and love for the unicorns in a few pages.
The illustrations are fantastic; it's like stepping into another world, but the unicorns look as if they could be real animals.  The book is clearly for older learning readers probably ages 6+, as some of the words will require assistance from parents and older readers and the paragraphs are longer than in other picture books.  While the story has little that's new to offer and is not in the poetry-like prose my daughter enjoys most, the story will seem new to younger readers and engage them with its fantastic world popping off the pages.  Twelve Dancing Unicorns by Alissa Heyman, illustrated by Justin Gerard, is visually stunning and shows that young girls can not only solve problems but achieve their goals, no matter how overwhelming they may seem.
Follow the Twelve Dancing Unicorns blog tour tomorrow on Kindred Spirit Mommy.
About the Author:
Alissa Heyman is a freelance writer who edited The Best Poems of the English Language (Mud Puddle Books). Her poems have appeared in the St. Petersburg Review, Lyric, and Quarto, and she has adapted The Big Book of… series for Sterling Publishing, which includes The Big Book of Horror, The Big Book of Fairies, and The Big Book of Pirates. Alissa lives in New York City where she also curates the Perfect Sense poetry reading series at the Cornelia Street Café.
About the Illustrator:
Justin Gerard has done illustration for DreamWorks, Warner Brothers, Disney, HarperCollins, Penguin, Little, Brown, and others. The Society of Illustrators featured his illustration "Beowulf and Grendel" in the 50th Annual of American Illustration, from his IPPY Award-winning book, Beowulf, Book I: Grendel the Ghastly. Justin lives in Greenville, SC.
54th book for 2014 New Author Reading Challenge.