Source: Bethany House and TLC Book Tours
Paperback, 432 pages
I am an Amazon Affiliate
For Such a Time by Kate Breslin is a WWII novel set in 1944 Czechoslovakia at the Theresienstadt concentration camp, a Jew work camp where many died from malnutrition, disease, or beatings, that acted as a stopgap for some Jews before reaching Auschwitz.  A miracle saves the life of Hadassah Benjamin from a Nazi firing squad, but the once blue-eyed, blonde finds herself in the middle of a hornet's nest and forced to live under the assumed name of Stella Muller.  With her shorn locks, she ends up wearing a red wig and is given luxurious clothes, a warm bed, and food as SS-Kommandant Colonel Aric von Schmidt's secretary.  With biblical quotes of Esther's story, the parallels are unmistakeable between Stella's struggles and that of Esther, with even Stella's uncle bearing the same name as Esther's cousin, Mordecai.  While the short quotes before each chapter are not strictly necessary to the story, it does offer some basis for the story Breslin is telling and for the strict moral grounds that Stella attempts to adhere to.  As a Jew who feels abandoned by God, it is interesting that she would turn to the bible and the tales a school friend of hers once told her, but her ability to connect with the bible demonstrates the transcendence that good morality can have no matter what religion, especially when she forces herself to break with Jewish traditions in order to remain concealed.
"Stella forced herself to look in the mirror.  Hadassah Benjamin, a Mischling, half Jew, bursting with a young woman's exuberance, had ceased to exist.  In her place stood Stella Muller, subdued Austrian bookkeeper and suitable stock for the Third Reich.  A frail disguise comprised of no more than a scrap of official-looking paper, a red wig, and beneath her bruises the inherent fair features of a Dutch grandmother."  (page 49-50)
Aric von Schmidt is the real enigma in this novel — a Nazi that does not hesitate to follow orders, but who still feels affection for Jews in his household.  He's a man broken by WWI — literally, emotionally, and physically — and although he begins to see the devastation around him, of which he has played a significant part, it is hard for him to reconnect with his humanity without seeing how it would hamper his duties and possibly result in his own death or punishment.  Although he softens with Stella's guidance, he's still torn inside as he struggles to balance what he knows is right and what his orders are under the government he serves.
As the war nears its end and the final solution is called for by the Reich, the pressure is on for Stella, her uncle, and young boy named Joseph.  Breslin has crafted a poignant novel about the end of a war that had everyone concerned about their own safety, even the Nazi officers carrying out horrific orders.  She manages to humanize some of these monsters, and while we are not expected to completely forgive these men, it is clear that their decisions were based on their own demons and inabilities to sacrifice themselves for the good of others — a strength that few can muster in times of crisis when saving their own skin is a viable option.  For Such a Time by Kate Breslin is a stunning debut and would make a great book club selection given the moral issues and the emotional impact of the decisions these characters face.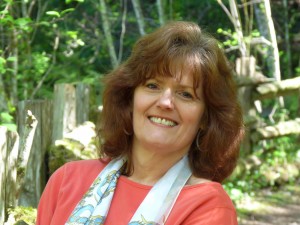 About the Author:
A Florida girl who migrated to the Pacific Northwest, Kate Breslin was a bookseller for many years. Author of several travel articles, award-winning poet, and RWA Golden Heart finalist, Kate now writes inspiring stories about the healing power of God's love. For Such a Time is her first book. She lives with her husband and cat in Seattle, WA.
Connect with Kate on her website and on Facebook.
10th book (WWII) for the 2014 War Challenge With a Twist.
8th book for 2014 European Reading Challenge; It is set in Czechoslovakia.

13th book for 2014 Historical Fiction Reading Challenge.
21st book for 2014 New Author Challenge.