Source: William Morrow and TLC Book Tours
Paperback, 400 pages
I am an Amazon Affiliate
Somewhere in France by Jennifer Robson is a historical fiction romance set during WWI.  Lady Elizabeth "Lilly" Neville-Ashford has lived a cloistered life in high society, but she's always dreamed of doing more — going to university or helping with the war effort.  She buries her head in books to avoid conflicts with her mother, who believes that as a lady of society Lilly should be seeking a suitable husband.  After pushing for a new governess when she was a teenager to expand her education, she's hit a roadblock in her twenties where her mother and father are concerned.  Her brother Edward, on the other hand, seems to have the easy life and he rolls with the punches, making jokes and letting the unpleasantness just pass by.  In many ways, she is jealous of his ability to smooth out the wrinkles of their aristocratic lives and to do what he wants — like join the soldiers at the front.  Lilly is above it all, looking down in judgment on her brother and her parents, but she rarely examines her own actions in the same way.
"He, and all his friends, seemed to regard the war as a great lark.  To them it was a blessed chance to do, to act, to be forged by the crucible of war into better men.  An improbable notion, Lilly was sure, though she could understand its appeal.  What had any of them actually done with their lives thus far, despite the riches and privileges heaped upon them?" (page 21)
In a final effort, Lilly is pushed to the brink, secretly learning to drive while away from her parents, and by then, she's passed the point of no return.  She has to take her life in her own hands and mold it into what she wants.  Finding a job isn't easy for a young woman of her stature, with no money and no skills, but her former governess Charlotte becomes an angel in her life.  Readers will find Lilly's attitude toward others disconcerting at first because she's at times affable and friendly, while at others secretive and softly judgmental.  However, once she gets a taste of what it means to be a common girl, with little money and her dreams just out of reach, she becomes even more determined to get what she wants.
"Before emptying the tub, she checked the water and was relieved to find no evidence of lice.  A month earlier, she'd been horrified to discover nits when combing her hair before bed.  Persian insect powder, mixed into a paste with petroleum jelly, had killed the lice in her hair, but then she'd inspected her clothes and found them infested with body lice, likely picked up from one of the walking wounded … " (page 193)
Robson does an excellent job of placing the reader in the field hospitals, with Robbie — Edward's university friend who becomes a surgeon — and with Lilly once she makes it to France as a driver.  While the romance is a bit overblown, the hardships of the nurses and surgeons is palpable, leaving readers shocked at the blood and split-second choices that have to be made when the wounded come pouring in.  Somewhere in France by Jennifer Robson provides a detailed look at the life of those on the front lines of WWI who do not shoot the guns or drop the bombs — those tasked with cleaning up the mess of war.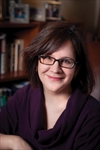 About the Author:
Jennifer Robson first learned about the Great War from her father, acclaimed historian Stuart Robson, and later served as an official guide at the Canadian National War Memorial at Vimy Ridge, France. A former copy editor, she holds a doctorate in British economic and social history from the University of Oxford. She lives in Toronto, Canada, with her husband and young children. This is her first novel. Connect with her on Facebook.
1st WWI book for the 2014 War Challenge With a Twist
1st book for 2014 European Reading Challenge; this is set in France.
2nd book for 2014 New Author Challenge
1st book for 2014 Historical Fiction Reading Challenge