Source: William Morrow at HarperCollins
Hardcover, 143 pages
I am an Amazon Affiliate
Chasing Utopia: A Hybrid by Nikki Giovanni is a combination of essays, fantastical stories, and poems, but each is steeped in family memory, foodie love, and careful observations about the modern world.  She shares not only her passion for food and cooking with her grandmother and mother, but also the power of that food to bring people together.  Food also becomes a source of power in the book as she tells stories and engages in poetic dialogue with the reader about how fear mixed with hatred can be just as dangerous as cutting pure cocaine with other foul substances.  By the same token, a little fear can be motivational and should be sprinkled in like the spices in our food.
"We are foodies, my family and I.  My grandmother was an extraordinary cook.  Her miniature Parker House rolls have been known to float the roof off a flooded house in hurricane season."  (page 1)
Through hyperbole, passion, and personal anecdotes, Giovanni coaxes the reader into thinking about larger issues that affect family life, from the political agenda to the curbs on human rights and war.  She urges the reader — gently and forcefully — to chase utopia (whether that's a beer or an ideal) with all of our passion and drive because if we do not chase it, we become complacent and bored.  Her essays, stories, and poems piggyback off of one another from the discussion of mutual assistance in the Mayflower Compact to the priceless value of loving relationships.
Poets (page 74)

Poets shouldn't commit
Suicide
That would leave the world
To those without imaginations
Or hearts

That would bequeath
To the world
A mangled syntax
And no love
Of champagne

Poets must live
In misery and ecstasy
To sing a song
With the katydids

Poets should be ashamed
To die
Before they kiss
The sun
Chasing Utopia: A Hybrid by Nikki Giovanni is a mixture — a hybrid — of the personal and the universal, of poetry and story, and of relationships and society that will force readers to think about their own lives, their great passions, and the world around them.  Giovanni may not be overtly striking the match to spur societal change, but she's planting the seed and asking us to nurture its growth — even if it is just within us — to germinate our own utopia.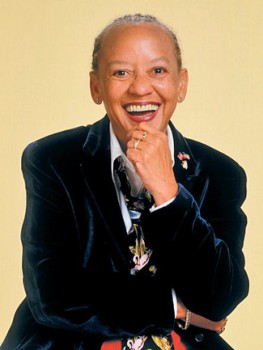 About the Author:
Poet Nikki Giovanni was born in Knoxville, Tennessee, on June 7, 1943. Although she grew up in Cincinnati, Ohio, she and her sister returned to Knoxville each summer to visit their grandparents. Nikki graduated with honors in history from her grandfather's alma mater, Fisk University. Since 1987, she has been on the faculty at Virginia Tech, where she is a University Distinguished Professor.
Visit her Website.
Book 2 for the Dive Into Poetry Reading Challenge 2014.