Source: William Morrow and TLC Book Tours
Paperback, 240 pages
I am an Amazon Affiliate
The Pursuit of Mary Bennet by Pamela Mingle is what could be considered a sequel Jane Austen's Pride & Prejudice, but rather than focus on Elizabeth and Jane Bennet as the heroines, Mingle chooses the more pious and somewhat ridiculous sister Mary.  Mary Bennet has been the butt of the family's jokes and jibes for much of her childhood, and for the most part Lydia and Kitty Bennet treat her in much the same way even though she is in her early twenties and has clearly changed.  Rather than sing to the detriment of society's ears, she's content with refining her pianoforte playing, leaving singing to others who are more gifted.  She once sat idly by and took the criticisms of her siblings and parents and held those resentments inside, but now she's more inclined to speak her mind, while not being overly rude.  She's a more matured woman, though still unsure of her feelings and her place in the family.
"I'd always believed I would remain a spinster.  I would disappoint as a wife.  I had not the easy compliance, the ability to defer to a husband, and worst of all, I lacked beauty, conduct, and, at times, even common sense.  But Jane said I had changed.  Truly, I valued her opinion above that of anyone else."  (page 85)
Told from Mary's point of view, readers are given an inside look into her growth as a young woman and a sister.  Rather than admonishing her sisters for their poor behavior aloud and in public, she's taken to more tactful advice.  She's a more well-rounded woman, though still naive when it comes to marriage, romance, and the bond between men and women.  While readers will enjoy this more evolved Mary and getting a glimpse into the lives of their favorite Bennets — Jane and Lizzy — the parallels between Lizzy and Darcy's love story is reflected in Mary's romance.  The close parallels from the quick prejudices and anger over easily explained moments lack an imagination one would expect, especially in this tale.  However, given Mary's limited contact with men at Longbourn, it does stand to reason she would be unsure how to respond to male attentions.  Readers may have wanted a more inventive romance with trials different from those of Darcy and Lizzy.
The Pursuit of Mary Bennet by Pamela Mingle is a solid novel in the same vein as Austen's work, and breathing life into the stern and bookish Mary is tough to pull off, but Mingle's Mary is believable.  She's a young woman of principle, and given her sisters' love matches, it is no wonder that she would want to settle for nothing less.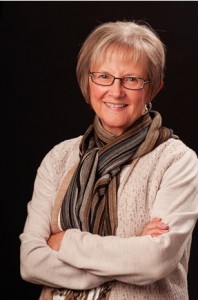 About the Author:
Pamela Mingle is the author of Kissing Shakespeare, a time-travel romance for young adults set in Elizabethan England. She is a member of the Society of Children's Book Writers and Illustrators, Pikes Peak Writers, Romance Writers of America, and the Jane Austen Society of North America.
Find out more about Pamela at her website, connect with her on Facebook, and follow her on Twitter.
This is my 79th book for the 2013 New Authors Challenge.