Beyond the Scent of Sorrow by Sweta Srivastava Vikram is a small collection of poems that draw parallels between nature and women.  Reminiscent of Ecofeminism, a political and social combination of feminism and deep ecology that draws parallels between women and nature and calls attention to the misuse of both by patriarchy, Vikram develops a dialogue about the harm done to nature and women across the globe.  Dominance of both by outside constructs — whether it is capitalism or man — has belittled the importance and strengths of both.  Rather than wallow in the pain and repression, Vikram's verse strives to cultivate women and nature's strengths to demonstrate there is a way to overcome the oppression.
"in colonies of Armani,
singing a sad melody, attracting worker bees and wasps

to give their friends honey, the walk on burning coals.
A trap before he shoots bullets" (from "It's a Man's World", page 4)
Specifically, Vikram discusses in the preface how there are parallels drawn between women and the eucalyptus tree, which were both once integral to society and are now thought of as commodities that can be replaced.  The collection is broken into two parts, with the first part seemingly more focused on the changing role of both women and nature in society and the dire consequences that occur because their worth is devalued, such as the displacement of birds and animals when the eucalyptus is cut down in "Eucalyptus Trees" (page 3).  Additionally, the poems in this section describe how women and nature are abused by society (not necessarily just by men), like in "Unholy Men" and "It's a Man's World" (pages 4-5).
In part two, the secrets held by women and nature are revealed — their strengths that must be hidden from society or be devalued outright.  Women and nature here are dichotomies in and of themselves in that they must present a strong front to the society that abuses them, while at the same time hiding their strengths and internalizing the devaluation of their gifts.
"Wearing a veil over my dilemma,
the skull of questions is hidden.

What was mine? Some could argue.
To make a point bland as sand, I say,

Ask the bird that lost its nest resting in the eucalyptus tree,
Mother nature faced irony with a damp silence --" (From "Silence", page 14)
Vikram's verse is sparse and powerful, evoking reflection and a grander examination of the world around us. Beyond the Scent of Sorrow calls attention to the depravity of human action, but also to the hope that things can be changed if we have the will to change it.  Do not be fooled by the comparisons here in to thinking that men are the enemy because they are not; the collection is more about the decisions we make as humans and the consequences those decisions have on our world and ourselves.
Beyond the Scent of Sorrow by Sweta Srivastava Vikram is the third collection of hers that I've read, and since this was published in 2011, it is eligible for this year's Indie Lit Awards.  It resonated with me for its references to Portugal, my father's homeland, and for its echoes of a philosophy, social, and political movement I have studied and internalized over the years.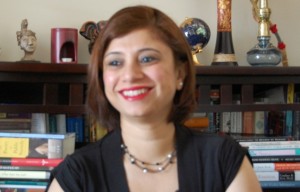 About the Poet:
Sweta Srivastava Vikram is an award winning writer, a Pushcart Prize nominated poet, novelist, author, essayist, columnist, educator, and blogger. Born in India, Sweta spent her formative years between the steel city of Rourkela, the blue waters of North Africa, the green hills of Mussoorie, and the erudite air of Pune before arriving in bustling New York. Growing up between three continents, six cities, five schools, and three masters degrees, what remained constant in Sweta's life was her relationship with words.
Check out Diary of an Eccentric's review.
This is my 31st book for the Fearless Poetry Exploration Reading Challenge.
This is my 3rd book and final book for the South Asian Reading Challenge.