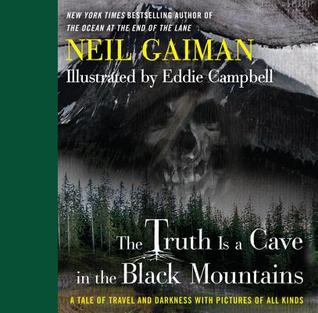 Source: Public Library
Hardcover, 74 pgs
I am an Amazon Affiliate
The Truth Is a Cave in the Black Mountains by Neil Gaiman, illustrated by Eddie Campbell, is a book that probably does very well on audio or read in person with the backdrop of images inside this book.  The story is a simple journey of one man, seeking a guide into the Black Mountains of Misty Isle.  In full-color illustrations, which mirror acrylic paintings, the book also contains comics and balloon conversations, and yet somehow it all comes together nicely with Neil Gaiman's story.  The prose is simple, much like those tales told by campfires.
"'You are wrong.  The truth is a cave in the black mountains.  There is one way there, and one way only, and that way is treacherous and hard.  And if you choose the wrong path you will die alone, on the mountainside." (page 21)
Two men journey to the Misty Isle and the cave in the Black Mountains through the Scottish Highlands in search of the gold they can carry back with them.  Rather than merely be an adventure story in search of treasure, each man carries with him moments of regret and love.  The Truth Is a Cave in the Black Mountains by Neil Gaiman, illustrated by Eddie Campbell, should be read aloud and shared with others, perhaps in front of the fireplace on a cold winter's evening.
About the Author:
Neil Gaiman's work has been honoured with many awards internationally, including the Newbery and Carnegie Medals. His books and stories have also been honoured with 4 Hugos, 2 Nebulas, 1 World Fantasy Award, 4 Bram Stoker Awards, 6 Locus Awards, 2 British SF Awards, 1 British Fantasy Award, 3 Geffens, 1 International Horror Guild Award and 2 Mythopoeic Awards.
About the Illustrator:
Eddie Campbell is a Scottish comics artist and cartoonist who now lives in Australia. Probably best known as the illustrator and publisher of From Hell.