Source: Public Library
Paperback, 240 pgs.
I am an Amazon Affiliate
The Sandman, Vol. 1: Preludes & Nocturnes by Neil Gaiman, which was our October book club selection, contains eight comics that were issued once per month. Gaiman admits that the writing is not as good upon reading them long after they were issued, and on this readers might agree. The dialogue is often choppy and the comics feel as though they do not have a focus or story arc. In many ways they are vignettes.
"There was a definite effort on my part, in the stories in this volume, to explore genres available: "The Sleep of the Just" was intended to be a classical English horror story; "Imperfect Hosts" plays with some of the conventions of the old DC and E.C. horror comics (and the hosts thereof); "Dream a Little Dream of Me" is slightly more contemporary British horror story … " (From Gaiman's Afterword)
Having read other graphic novels by Gaiman, this seems like a freshman effort at comics. The drawings themselves are dark and haphazard at times, making it hard for readers to follow the story in a cohesive way. I had to re-read a few pages to fully capture what was happening. Even after doing so, it seemed as though I was missing some backstory and even some explanation as to why this "order" would trap Sandman if he was not the one they wanted in the first place. However, I did like Sandman's cloak…the flames were a nice touch.
Even once that episode is done and Sandman is free, the attempts to take back his "tools" are so easily accomplished that they fell flat. It was more of a detective story in that way — follow the clues and obtain the objects. Even the major battle with the demon was only mildly entertaining, and forget the battle with Dr. Dee. Overall, The Sandman, Vol. 1: Preludes & Nocturnes by Neil Gaiman fell a little flat for me in terms of substance, even the interactions between Sandman and Death were less than stellar.
RATING: Couplet
Other Reviews: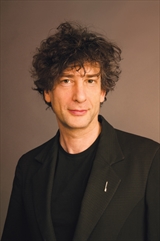 About the Author:
Neil Gaiman is the #1 New York Times bestselling author of more than twenty books, and is the recipient of numerous literary honors. Originally from England, he now lives in America.
Find out more about Neil at his website, find all his books at his online bookstore, and follow him on Facebook, tumblr, and his blog.