Mailbox Monday, created by Marcia at To Be Continued, formerly The Printed Page, has a permanent home at its own blog.
To check out what everyone has received over the last week, visit the blog and check out the links.  Leave yours too.
Also, each week, Leslie, Vicki, and I will share the Books that Caught Our Eye from everyone's weekly links.
Here's what I received:
1.  Around the World in 450 Recipes, edited by Sarah Ainley from the book club gift exchange.
Sample the classics of world cuisine in this comprehensive collection of over 450 best-loved recipes from every continent authentic traditional dishes from Europe and the Caribbean to China, America and Japan 1500 color photographs, with recipe techniques shown step-by-step.
2. Desperation by Stephen King from the library sale — buy one hardcover, get one free.
Something is terribly wrong in Desperation, Nevada — a small mining town just off Route 50 with a played out open pit copper mine. The streets are wind swept and deserted; animals have the run of the town and something horrific is brewing in the now abandoned mine pit. You won't have a good day in Desperation.

En route to Lake Tahoe for a much anticipated vacation, the Carver family is arrested for blowing out all four tires on their camper. Collie Entragian is the arresting officer, the self-made sheriff of a town called Desperation, Nevada, and the quintessential bad cop.
3.  From A Buick 8 by Stephen King from the library sale — the free hardback!
At first glance, Stephen King's latest bears a familial resemblance to Christine , his 1983 saga of a haunted, homicidal Plymouth Fury. But From a Buick 8 is a marked departure from this earlier tale of adolescent angst and teenage tribal rituals. It is the work of an older, more reflective writer, one who knows that the most pressing questions often have no answers.

The story begins in western Pennsylvania in 1979, when a mysterious figure parks a vintage Buick Roadmaster at a local gas station, then disappears forever. The police discover that the Buick isn't a car at all but rather a Buick-shaped enigma: self-healing; impregnable to dents, dirt, and scratches; composed of unidentifiable materials; and containing a completely nonfunctional engine. Confronted with a mystery of unprecedented proportions, the troopers of Barracks D claim the Buick for themselves and spend 20 years attempting to understand its nature, purpose, and provenance.
4. The Shoemaker's Wife by Adriana Trigiani from the library sale's buy 3 paperbacks for $1.

The majestic and haunting beauty of the Italian Alps is the setting of the first meeting of Enza, a practical beauty, and Ciro, a strapping mountain boy, who meet as teenagers, despite growing up in villages just a few miles apart. At the turn of the last century, when Ciro catches the local priest in a scandal, he is banished from his village and sent to hide in America as an apprentice to a shoemaker in Little Italy. Without explanation, he leaves a bereft Enza behind. Soon, Enza's family faces disaster and she, too, is forced to go to America with her father to secure their future.

Unbeknownst to one another, they both build fledgling lives in America, Ciro masters shoemaking and Enza takes a factory job in Hoboken until fate intervenes and reunites them. But it is too late: Ciro has volunteered to serve in World War I and Enza, determined to forge a life without him, begins her impressive career as a seamstress at the Metropolitan Opera House that will sweep her into the glamorous salons of Manhattan and into the life of the international singing sensation, Enrico Caruso.
5. Very Valentine by Adriana Trigiani, the second book in the library sale deal.

In this luscious, contemporary family saga, the Angelini Shoe Company, makers of exquisite wedding shoes since 1903, is one of the last family-owned businesses in Greenwich Village. The company is on the verge of financial collapse. It falls to thirty-three-year-old Valentine Roncalli, the talented and determined apprentice to her grandmother, the master artisan Teodora Angelini, to bring the family's old-world craftsmanship into the twenty-first century and save the company from ruin.

While juggling a budding romance with dashing chef Roman Falconi, her duty to her family, and a design challenge presented by a prestigious department store, Valentine returns to Italy with her grandmother to learn new techniques and seek one-of-a-kind materials for building a pair of glorious shoes to beat their rivals.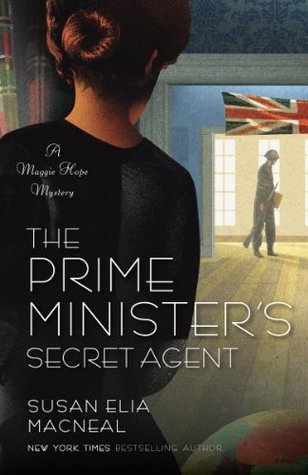 6. The Prime Minister's Secret Agent by Susan Elia MacNeal, the third book in the deal.

World War II rages on across Europe, but Maggie Hope has finally found a moment of rest on the pastoral coast of western Scotland. Home from an undercover mission in Berlin, she settles down to teach at her old spy training camp, and to heal from scars on both her body and heart. Yet instead of enjoying the quieter pace of life, Maggie is quickly drawn into another web of danger and intrigue. When three ballerinas fall strangely ill in Glasgow—including one of Maggie's dearest friends—Maggie partners with MI-5 to uncover the truth behind their unusual symptoms. What she finds points to a series of poisonings that may expose shocking government secrets and put countless British lives at stake. But it's the fight brewing in the Pacific that will forever change the course of the war—and indelibly shape Maggie's fate.
7. Lost Voices by Sarah Porter from the library sale.
What happens to the girls nobody sees—the ones who are ignored, mistreated, hidden away? The girls nobody hears when they cry for help?

Fourteen-year-old Luce is one of those lost girls. After her father vanishes in a storm at sea, she is stuck in a grim, gray Alaskan fishing village with her alcoholic uncle. When her uncle crosses an unspeakable line, Luce reaches the depths of despair. Abandoned on the cliffs near her home, she expects to die when she tumbles to the icy, churning waves below. Instead, she undergoes an astonishing transformation and becomes a mermaid.

A tribe of mermaids finds Luce and welcomes her in—all of them, like her, lost girls who surrendered their humanity in the darkest moments of their lives. The mermaids are beautiful, free, and ageless, and Luce is thrilled with her new life until she discovers the catch: they feel an uncontrollable desire to drown seafarers, using their enchanted voices to lure ships into the rocks.
8.  Joy Street by Laura Foley for review in January with TLC Book Tours.

"Joy Street" pays lyrical homage to the truth of living as a lesbian in the second half of life. Each poem in this radiantly plainspoken collection offers subtle and penetrating observations that swell to a rich tapestry of ordinary life, beheld from a stance of grace and buoyancy. Starting with intimations of desire in childhood, these poems travel through ordinary domestic scenes to the blessing of a maturity in which the narrator, still embracing desire and wild promise, thrives in the midst of life's darker gifts. This collection is truly a joy to read. It puts to shame those of us who walk through our days with "the din of loneliness," ignoring life's many invitations for bliss.
9. The Last Good Paradise by Tatjana Soli for review from St. Martin's Press for TLC Book Tours.

On a small, unnamed coral atoll in the South Pacific, a group of troubled dreamers must face the possibility that the hopes they've labored after so single-mindedly might not lead them to the happiness they feel they were promised. Ann and Richard, an aspiring, Los Angeles power couple, are already sensing the cracks in their version of the American dream when their life unexpectedly implodes, leading them to brashly run away from home to a Robinson Crusoe idyll. Dex Cooper, lead singer of the rock band, Prospero, is facing his own slide from greatness, experimenting with artistic asceticism while accompanied by his sexy, young, and increasingly entrepreneurial muse, Wende. Loren, the French owner of the resort sauvage, has made his own Gauguin-like retreat from the world years before, only to find that the modern world has become impossible to disconnect from. Titi, descendent of Tahitian royalty, worker, and eventual inheritor of the resort, must fashion a vision of the island's future that includes its indigenous people, while her partner, Cooked, is torn between anarchy and lust. By turns funny and tragic, The Last Good Paradise explores our modern, complex and often, self-contradictory discontents, crafting an exhilirating story about our need to connect in an increasingly networked but isolating world.
10.  Free Air by Joe Wenke for review from Meryll Moss Media.
"Free Air" is focused on freedom, relationships, betrayal and there are a few LGBT and political activist poems included. They are written to be entertaining and accessible as quick reads — witty, little revelations and are not academic poems.
11.  Paradise Drive by Rebecca Foust from the author for review.
Paradise Drive's 80 sonnets (in various stages of departure from the form) are linked in a loose narrative, many inhabited by a sometimes-ironic protagonist named "Pilgrim." All but a handful of the poems are or will be published in literary journals: four in the next issue of Hudson Review, eight in the next Notre Dame Review, and one each in next issues of the Cortland Review, Southern Indiana Review and Southern Poetry Review.
What did you receive?