Mailbox Monday, created by Marcia at To Be Continued, formerly The Printed Page, has a permanent home at its own blog.
To check out what everyone has received over the last week, visit the blog and check out the links.  Leave yours too.
Also, each week, Leslie, Vicki, and I will share the Books that Caught Our Eye from everyone's weekly links.
Here's what I received:
1. The Daddy Diaries by Joshua Braff a surprise from Tandem Literary.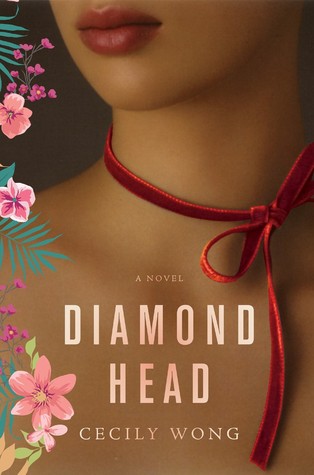 2. Diamond Head by Cecily Wong, which I won from GoodReads.
At the turn of the nineteenth-century, Frank Leong, a fabulously wealthy shipping industrialist, moves his family from China to the island of Oahu. But something ancient follows the Leongs to Hawaii, haunting them. The parable of the red string of fate, the cord which binds one intended beloved to her perfect match, also punishes for mistakes in love, passing a destructive knot down the family line.

When Frank is murdered, his family is thrown into a perilous downward spiral. Left to rebuild in their patriarch's shadow, the surviving members of the Leong family try their hand at a new, ordinary life, vowing to bury their gilded past. Still, the island continues to whisper—fragmented pieces of truth and chatter, until a letter arrives two decades later, carrying a confession that shatters the family even further.
3.  Chicken Soup & Homicide by Janel Gradowski from the author for her blog tour.

Amy Ridley and her friend, Sophie, have perfected their chicken soup recipe, and the winter-weary residents of Kellerton, Michigan can't wait to watch them compete against other local chefs in the Chicken Soup Showdown. But the charity event starts out with a bang, literally, when one of the rival chefs falls out of a freezer and onto Amy. If it wasn't stressful enough for Amy to catch a dead body, the detective in charge of the investigation targets her best friend, Carla, as the chief suspect in the murder.

In order to clear her friend's name, Amy does her own investigating. The problem is nobody liked the arrogant murdered celebrity chef, and soon her suspect list is longer than the list of ingredients in her secret chicken soup recipe. Can Amy figure out who killed the celebrity chef? Or will Carla be spending the spring in jail?
4.  The Witch of Painted Sorrows by M.J. Rose for review with France Book Tours.

Sandrine Salome flees New York for her grandmother's Paris mansion to escape her dangerous husband, but what she finds there is even more menacing. The house, famous for its lavish art collection and elegant salons, is mysteriously closed up. Although her grandmother insists it's dangerous for Sandrine to visit, she defies her and meets Julien Duplessi, a mesmerizing young architect. Together they explore the hidden night world of Paris, the forbidden occult underground and Sandrine's deepest desires.

Among the bohemians and the demi-monde, Sandrine discovers her erotic nature as a lover and painter. Then darker influences threaten—her cold and cruel husband is tracking her down and something sinister is taking hold, changing Sandrine, altering her. She's become possessed by La Lune: A witch, a legend, and a sixteenth-century courtesan, who opens up her life to a darkness that may become a gift or a curse.
What did you receive?