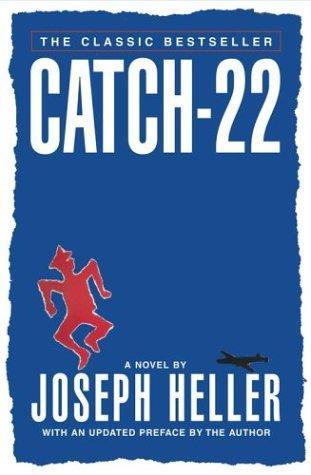 Source: Public Library
Paperback, 463 pgs.
I am an Amazon Affiliate
Catch-22 by Joseph Heller, which was our banned book selection for book club, was a re-read for me. The book was initially banned in Ohio because the language was considered indecent and considered objectionable. While there is objectionable language and graphic sexual situations, this is a book about the absurdity of war and it is a satire about World War II.
Catch-22: a dilemma or difficult circumstance from which there is no escape because of mutually conflicting or dependent conditions.
Yossarian is a bombardier who is an excellent shot, who achieves a second pass and earns a medal, but Colonel Cathcart has plans and continues to raise the number of missions his crew must fly. This bombardier and the colonel are in a silent battle, as Yossarian seeks out any number of reasons to get admitted to the hospital, or be declared insane, anything that will get him out of flying more dangerous missions. He's almost like a clown bumbling around to disguise his strategy for escape.
"Colonel Cathcart cracked his knuckles violently. Colonel Korn, a stocky, dark, flaccid man with a shapeless paunch, sat completely relaxed on one of the benches in the front row, his hands clasped comfortably over the top of his bald and swarthy head. His eyes were amused behind his glinting rimless spectacles." (pg. 148)
The shifting nature of this book mirrors the chaos of war on a smaller scale, leaving the reader in a whirlwind of activity and nonsense. Despite the horrors of war and the deaths around them, there's a levity to these characters and their interactions. Frustration with superiors and bureaucracy is typical of many war novels, but Heller carefully demonstrates the back-stabbing, the all-for-myself moves of men in power, and the utter disbelief of soldiers at the very bottom of the power structure when the rug is pulled from beneath them. As in war, readers are unlikely to form strong attachments for the characters interacting in Heller's novel — despite the incident with Snowden — making the war seem even more distant even more ridiculous.
Catch-22 by Joseph Heller is a fun ride that never disappoints. From Yossarian's struggles within the system to Milo's triumph outside the hierarchy of military power, Heller has created a novel that speaks to the overall chaos and disharmony of war, the futile attempts to make life for soldiers seem normal by the military through order and discipline, and the machinations of those with their own agendas and how they can place everyone in jeopardy.
RATING: Quatrain
About the Author:
Joseph Heller was born in Brooklyn in 1923. In 1961, he published Catch-22, which became a bestseller and, in 1970, a film. He went on to write such novels as Good as Gold, God Knows, Picture This, Closing Time (the sequel to Catch-22), and Portrait of an Artist, as an Old Man. Heller died in December 1999.