Source: Purchased
Paperback, 210 pgs.
I am an Amazon Affiliate
Tell the Truth. Make It Matter.: A Memoir Writing Workbook by Beth Kephart, illustrated by William Sulit, is the perfect workbook for budding memoirists because it provides not only writing exercises but enough room to write inspirations down.  Users can even staple additional pages in the book if they need more room.
What I love about the workbook, other than that it is written by Beth Kephart, is that the illustrations could jog the brain into writing and the exercises vary from writing about a first memory to writing a poem about an event.  Born from her Juncture workshops, Kephart uses those experiences to offer writers exercises that will leave them inspired to tackle that memoir or other writing project they've been thinking about.  For example, in the writing about your first lie exercise, there are tips about finding the bigger story in the lie, as well as suggestions to think about the details to make them alluring and to think about who you were before the lie was told and who you were after it was told.
The workbook is broken down in to finding your voice, finding the true you, hunting for memory, navigating your world, using photographs to job memory or inspire, and many other topics.  I love how the exercises help you tease out details for your writing, and by the end of the workbook, you should be prepared to tackle that memoir or other work you're looking to finish.  Always remember that the truth matters and that your memoir is not just about you!  Very sage advice.
If you're looking for a workbook full of exercises to get you thinking outside the box, Tell the Truth. Make It Matter.: A Memoir Writing Workbook by Beth Kephart, illustrated by William Sulit, is the one, especially if you're writing a memoir.  Using your imagination, you could also adapt the exercises to suit your fiction writing needs or just get writing in general, if you're a little rusty.  Kephart has done it again.
RATING: Cinquain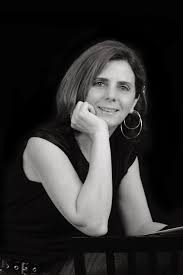 About the Author:
Beth Kephart is the author of twenty-two books, publishing memoir, young adult literature, a corporate fairytale, an autobiography of a river, and an essay/photography collection.
Handling the Truth: On the Writing of Memoir (Gotham), based in part on Kephart's teaching at Penn (where she won the 2015 Beltran Teaching Award), won the 2013 Books for a Better Life Award (Motivational Category), was featured as a top writing book by O Magazine, and was named a Best Writing Book by Poets and Writers. Small Damages (Philomel) was named a 2013 Carolyn W. Field Honor Book and a best book of the year by many publications. Going Over (Chronicle) was the 2014 Parents' Choice, Gold Medal Winner/Historical Fiction and a Booklist Editor's Choice. One Thing Stolen (Chronicle) was a 2015 Parents' Choice Gold Medal winner. Kephart's 2014 Shebooks e-memoir is Nest. Flight. Sky.: On Love and Loss One Wing at a Time. Her 2013 middle grade historical novel, Dr. Radway's Sarsaparilla Resolvent (Temple University Press), was named a top book of the year by Kirkus.
Kephart is a National Book Award nominee and a winner of the Pennsylvania Council on the Arts fiction grant, a National Endowment for the Arts grant, a Leeway grant, a Pew Fellowships in the Arts grant, and the Speakeasy Poetry Prize. She writes a monthly column for the Philadelphia Inquirer, is a frequent contributor to the Chicago Tribune, has given keynote addresses on the state of literature and teaching, and served as a judge for the National Book Awards, the National Endowment for the Arts, and PEN. 

Kephart was one of 50 Philadelphia writers chosen for the year-long Philadelphia's Literary Legacy, exhibited at the Philadelphia International Airport. Excerpts from her Love: A Philadelphia Affair were the subject of a six-month Airport exhibit. She is a Radnor High Hall of Fame.
Kephart's most recent book—This Is the Story of You—was published by Chronicle and is a Junior Library Guild and Scholastic Book Club selection, on the 2017 TAYSHAS list, a VOYA Perfect Ten, and a Top Ten New Jersey Book.
Kephart will release two middle grade books with Caitlyn Dlouhy of Atheneum/Simon & Schuster. She is the co-founder of Juncture Workshops, offering memoir workshops and resources to writers across the country.