Source: TLC Book Tours
Hardcover, 256 pgs.
I am an Amazon Affiliate
Tyson Palmer is The Total Package; he's football's biggest star quarterback with a pile of money, a hot bod, and a trail of broken hearts, including his own. His career as a star football player, with help from his father and those around him, is nearly over.  But a chance meeting at his college's Homecoming with Ella Bella, a former tutor, has ramifications that he is blissfully unaware of thanks to his drinking and Percocet.  When he's kidnapped and forced into rehab, Palmer comes to realize that forgiveness has to first start with yourself.  Signing with the Austin Mavericks, he has an opportunity to relive the golden days as a star quarterback, but he plans to do it differently.
He still has his critics, and one of them is Dani Carr, a sports commentator, who calls Palmer out for his egotism and his failure to win a Super Bowl.  There's a deeper cause for her anger, one that will take Palmer a while to uncover.  Even as they argue back and forth, the foreplay is something they cannot ignore.  Stephanie Evanovich creates characters that are not only flawed, but forgivable.  Carr's work with Marcus, who is the receiver the Mavericks have pinned their hopes on, brings her closer to Palmer.  Carr has focused on her anger for so long, it is hard for her to let go even when she feels pulled in by Palmer's charm.
Palmer is a man who wants forgiveness, but he also wants to build the life he once dreamed about as a kid.  The Total Package by Stephanie Evanovich is a story about redemption and forgiveness.  It's another great read from this author and would be perfect to pop in the beach bag or even to spend the afternoon with in the spring sun.
RATING: QUATRAIN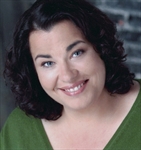 About the Author:
Stephanie Evanovich is a full-fledged Jersey girl who attended New York Conservatory for the Dramatic Arts, performed with several improvisational troupes, and acted in a few small-budget movies, all in preparation for the greatest job she ever had: raising her two sons. Now a full-time writer, she's an avid sports fan who holds a black belt in tae kwon do.  Find out more about Stephanie at her website and connect with her on Facebook.