Source: TLC Book Tours
Paperback, 339 pgs.
I am an Amazon Affiliate
The Visitant by Megan Chance is a ghost story with Gothic romance elements, reminiscent of the Brontes but not as dark.  Elena Spira arrives in Venice in the late 1900s (given the use of Bromide as a cure) with high expectations of caring for Samuel Farber in a plush palazzo, but Ca' Basilio is rundown and falling apart, with few rooms furnished, a staff that's very abrasive, and a family with dark secrets.   Samuel's ailments are a secret as well, as the Basilio family believes him to be merely the victim of a robbery and beating, but there are those in the house who are aware of his true sickness.  Nero Basilio is Samuel's best friend and when he returns from his trip to Rome, Elena captures his attention.  As he fervently pursues her, Samuel warns her against his darker nature given her virginal innocence, but it's clear he has designs on her as well.
"When I was finished, the trunk was still half-empty.  So sad, really, that a life could be compressed to so few things.  Three or four books, a photographic portrait of my parents and me.   Should someone wish to write my biography, a paragraph would be enough." (pg. 88 ARC)
Elena wants more from her life that the future that awaits her if she fails in her mission to return Samuel to health.  Her one mistake led her to this place of desolation, and her success can not only affect her own life, but that of her parents.  Her failure would be devastating for them all.  But even as she finds the palazzo in disrepair and the family without a fortune to repair it, she's less curious about the house than one would expect in a ghost story, particularly one with Gothic elements.  However, given her heavy guilt, her focus remains where it should be for the most part, though she is not unaware of the oppressive spirit of the house and its former inhabitant.
Chance weaves a captivating story from beginning to end, though Elena could have been a little more perceptive about Nero than she was given her past mistakes, which are referenced a few times.  In the fall season and Halloween around the corner, The Visitant by Megan Chance is a good fit.  It provides enough ghostly elements and enough mystery to keep readers going, and the romantic elements are not over the top.  Another solid novel from this author.
Other reviews: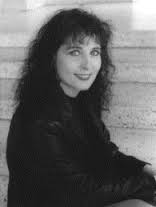 About the Author:
Megan Chance is a critically acclaimed, award-winning author of historical fiction, including Inamorata, Bone River, and City of Ash. Her novels have been chosen for the Borders Original Voices and Book Sense programs. A former television news photographer and graduate of Western Washington University, Chance lives in the Pacific Northwest with her husband and two daughters.  Visit her Website, Facebook, and Twitter pages.