Mailbox Monday, created by Marcia at To Be Continued, formerly The Printed Page, has a permanent home at its own blog.
To check out what everyone has received over the last week, visit the blog and check out the links.  Leave yours too.
Also, each week, Leslie, Vicki, and I will share the Books that Caught Our Eye from everyone's weekly links.
Here's what I received: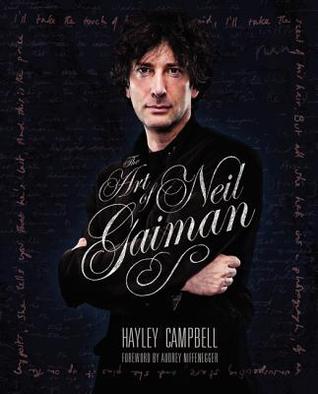 1. The Art of Neil Gaiman: The Visual Story of One of the World's Most Vital Creative Forces by Hayley Campbell for review from Harper.
Novelist, comics writer, scriptwriter, poet, and occasional artist, there are few creative avenues Neil Gaiman hasn't ventured down—from unforgettable books like The Ocean at the End of the Lane and American Gods to groundbreaking comics and graphic novels like The Sandman and Violent Cases; from big-screen fantasies like Coraline and Stardust to small-screen epics like Doctor Who and Neverwhere; and from short stories to songwriting, stage plays to radio plays, journalism to filmmaking, and all points in between.

The Art of Neil Gaiman is the first book to tell the full story of his amazing creative life. Never-before-seen manuscripts, notes, cartoons, drawings, and personal photographs from Neil's own archive are complemented by artwork and sketches from all of his major works and his own intimate recollections. Each project is examined in turn, from genesis to fruition, and positioned in the wider narrative of Gaiman's creative life, affording unparalleled access to the inner workings of the writer's mind.
2. The Mix & Match Guide to Companion Planting by Josie Jeffrey for review from Blogging for Books.
Due to the revived interest in vegetable gardening, people are again turning to the age-old practice of companion planting as an effective way to avoid chemicals and reduce labor simply by placing the right plants next to each other in the garden. This book is designed to help gardeners mix and match various companion plant pairs and groups to create healthy, harmonious botanical communities. All you have to do is choose from the extensive plant directory to find the perfect plant pals. Each central crop has a row of colored dots along the top and bottom of the strip showing its "requirements"–that is, what it's looking for in a companion plant, whether it be a support while growing and a pest deterrent or a soil conditioner and a nutrient accumulator. Turn the strips and match the dots to find your plants' best friends. The more dots that match, the better the chance your plants will flourish
3. The Sea Garden by Deborah Lawrenson for review in July for TLC Book Tours.

On the lush Mediterranean island of Porquerolles off the French coast, Ellie Brooke, an award-winning British landscape designer, has been hired to restore a memorial garden. Unsettled by its haunted air and the bitterness of the garden's owner, an elderly woman who seems intent on undermining her, Ellie finds that her only ally on the island is an elusive war historian.
4.  Molly's Game by Molly Bloom, an unexpected surprise that will be passed along to another reader.
When Molly Bloom was a little girl growing up in a small Colorado town, she watched her brothers win medals, ace tests, and receive high praise from everyone they met. Molly wanted nothing more than to bask in that glow a little herself, so she pushed herself too—as a student, as an athlete. She was successful but felt like she was always coming from behind. She wanted to break free, to find a life without rules and limits, a life where she didn't have to measure up to anyone or anything—where she could become whatever she wanted.

Molly wanted more, and she got more than she could have ever bargained for.
5.  Art From Dreams: My Jungian Journey in Collage, Assemblage, and Poetry by Susan Levin for review in September.
ART FROM DREAMS, MY JUNGIAN JOURNEY in COLLAGE, ASSEMBLAGE, and POETRY celebrates artistic expression as an exploration for self-awareness. Art-making and poetry reveal to ourselves and to others the images and feelings that arise within us in dreams. The very process of creation taps into the source of our inner wisdom. Poetry itself can be accessible as a collage of named images put together in various forms to communicate to and from our innermost selves.
What did you receive?