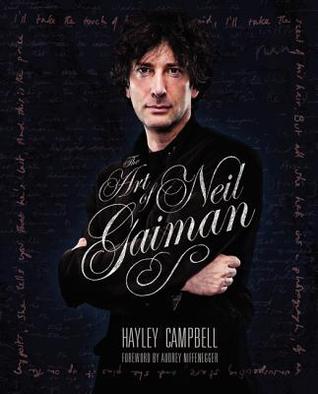 Source: Harper Design
Hardcover, 320 pages
I am an Amazon Affiliate
The Art of Neil Gaiman: The Visual Story of One of the World's Most Vital Creative Forces by Hayley Campbell is as comprehensive a look at one artist's life as the notes, sketches, photos, and interviews with them can be, and whether those events and milestones are recorded in the proper order is irrelevant.  What is relevant here is the evolution of the artist, the development of art and man and the culmination of that in his work as a novelist, poet, and more.  Campbell has know the man since the age of 6, and she strives to not only provide insight into his work, but to share his passion about that work with the reader.
Complete with photos, scribbles, and more, Campbell's book is an insider's view of Neil Gaiman's art as he created, as he remembers it, and even as he doesn't remember what it is.  There are some interesting takeaways from the book, including what he thinks schools do not teach students about life and that making mistakes is important.  There are rare looks at notebooks and more in this one, and it will become every Neil Gaiman fans must-have.  The genesis of each story is wonderfully told, but the minor problems with the book detract from the content as the words are small and in close proximity to the margin, making it easier for the reader to be attracted to the visual fodder in the volume.  Supposing a reader looks at all the visual material first and then returns to the text, the book offers a great deal of information about the man and his art.
The Art of Neil Gaiman: The Visual Story of One of the World's Most Vital Creative Forces by Hayley Campbell looks at the man's multi-genre work thus far and is by no means the end of what Gaiman has in store for his fans.  While some of the reproductions could be larger and clearer and the binding could be improved upon to ensure that readers can actually read the text without getting frustrated, this is a phenomenal look at the ephemera collected and stored by Gaiman and more.  Many readers who are uber fans will want to look at these tidbits and savor them, some will just want to look at these once.
About the Author:
Hayley Campbell writes for the New Statesman, McSweeney's, the Guardian, The Comics Journal, The Rumpus, Channel 4 News, Front, and Planet Notion. She's written a book about Neil Gaiman (published spring 2014, Ilex/HarperCollins, scroll down for pre-order details) and if her face looks familiar it's probably because she sold you comics once.
Find her on Twitter and her Website.
42nd book for 2014 New Author Challenge.