Mailbox Mondays (click the icon to check out the new blog) has gone on tour since Marcia at A Girl and Her Books, formerly The Printed Page passed the torch. This month's host is Unabridged Chick.
The meme allows bloggers to share what books they receive in the mail or through other means over the past week.
Just be warned that these posts can increase your TBR piles and wish lists.
Here's what I received:
1.  What Changes Everything by Masha Hamilton, which came unexpectedly from Unbridled Books.
What Changes Everything is truly an American story on an international stage, told through an ensemble of heartening characters. In a gamble to save her kidnapped husband's life, Clarissa Barbery makes the best decisions she can in the dark nights of Brooklyn. Stela Sidorova, who owns a used bookstore in Ohio, writes letter after letter hoping to comprehend the loss of a son on an Afghan battlefield and to reconnect with the son who abandoned her when his brother died. And Mandy Wilkens, the mother of a gravely wounded soldier from Texas, travels to Kabul to heal wounds of several kinds. At the same time, What Changes Everything is the story of two Afghans who reveal the complexity of their culture, the emotions that hold it together and those that threaten to fracture it. These lives are braided into an extraordinary novel about the grace of family.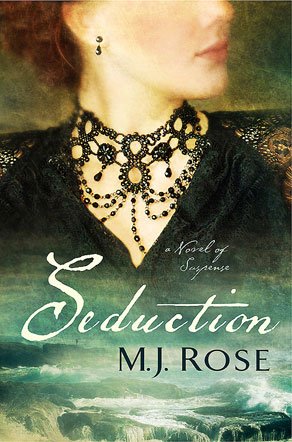 2.  Seduction by M.J. Rose for review in May with Historical Fiction Virtual Book Tours.
In 1843, novelist Victor Hugo's beloved nineteen-year-old daughter drowned. Ten years later, Hugo began participating in hundreds of séances to reestablish contact with her. In the process, he claimed to have communed with the likes of Plato, Galileo, Shakespeare, Dante, Jesus—and even the Devil himself. Hugo's transcriptions of these conversations have all been published. Or so it was believed.

Recovering from her own losses, mythologist Jac L'Etoile arrives on the Isle of Jersey—where Hugo conducted the séances—hoping to uncover a secret about the island's Celtic roots. But the man who's invited her there, a troubled soul named Theo Gaspard, has hopes she'll help him discover something quite different—Hugo's lost conversations with someone called the Shadow of the Sepulcher.

What follows is an intricately plotted and atmospheric tale of suspense with a spellbinding ghost story at its heart, by one of America's most gifted and imaginative novelists.
3.  Looking for Me by Beth Hoffman for review from the author.
Teddi Overman found her life's passion for furniture in a broken-down chair left on the side of the road in rural Kentucky.  She learns to turn other people's castoffs into beautifully restored antiques, and opens her own graciously-appointed shop in Charleston. Breathing new life into these discarded objects gives Teddi purpose, but has never alleviated the haunting uncertainty she's felt in the years since her brother Josh's mysterious disappearance. When signs emerge that Josh might still be alive, Teddi is drawn home to find him. It's a journey that could help her come to terms with her shattered family—and to find herself at last.

Looking for Me is an unforgettable novel that is full of Hoffman's signature heart and humor—and a grown-up love story to boot. It is destined to make her a bestselling novelist readers will want to read again and again as they have with Adriana Trigiani, Fannie Flagg, and Dorothea Benton Frank.
What did you receive?