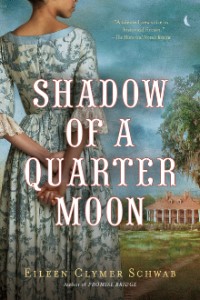 Today, I'd like to welcome Eileen Clymer Schwab, author of Shadow of a Quarter Moon.  The novel is set pre-U.S. Civil War and is a tale of romance, high racial tensions, and plantation life.  According to the publisher's synopsis, "In 1839 North Carolina, Jacy has been raised in privilege as the daughter of a plantation owner. But when her father suddenly dies, her cold, unfeeling mother, Claudia, schemes to marry Jacy off to a well-positioned but lecherous suitor.  In a fit of fury over Jacy's protests, Claudia calls her a 'foolish, infernal quadroon'—and reveals that Jacy is the offspring of a dalliance between her father and a slave. Furthermore, her biological mother and brother are still slaves on the plantation. After these revelations, Jacy's sense of who she is and where she belongs in the world is destroyed and, starts to see herself and the South with fresh eyes."
Please welcome Eileen Clymer Schwab, and stay tuned for the giveaway:
1. What about the Civil War time period captured your attention enough to write a novel?
The years preceding the Civil War were so pivotal in American history, yet there is not a lot of adult fiction set in this time period. I suspect this is because it is not a time our nation is proud of, or wishes to reminisce over. We hide it from sight like an ugly scar. However, in keeping the door closed on this period, we miss the chance to honor and marvel at the incredible acts of courage and daring deeds that were the genesis of social change in the United States.
The Underground Railroad is the perfect example of the best of America within the worst of America. I am intrigued by this transitional period in history and find inspiration in the courage of those who sought freedom, as well as the spirit of joined purpose developed with those who provided aid during their journey.
2. Beyond the romantic aspect of your novel, SHADOW OF A QUARTER MOON, how much of the novel is about the racial tensions during the period and the issues that led up to the civil war?
Issues of slavery are central to the story, as is the Underground Railroad. In SHADOW OF A QUARTER MOON, an unimaginable secret changes the course of Jacy Lane's life; not once, but twice. First, when it is hidden from her, and then when it is revealed. As the daughter of a plantation owner, Jacy has been raised in privilege until she discovers that she is the offspring of a dalliance between her father and a slave.
Amid the shock and complexities of her mixed heritage, Jacy is simply a woman longing for love, happiness, and a sense of wholeness; however the 1800s are not a simple time and Jacy begins a treacherous journey of denial and self-discovery that is fraught with danger and life-altering choices. She soon discovers that what she chases is as elusive as the secret network she hopes can save them.
3. When writing poetry, prose, essays, and other works do you listen to music, do you have a particular playlist for each genre you work in or does the playlist stay the same? What are the top 5 songs on that playlist? If you don't listen to music while writing, do you have any other routines or habits?
I am a music lover, but I generally do not listen to music while writing because it might prevent me from "hearing" my characters. The process is different for every writer, but I am most creative when my mind is quiet. Scenes come alive visually in my mind and I hear the dialogue of my characters, not aloud, but like the voice of inner thought. But that's not to say that music has not had a major impact on my work.
The spirit of my first novel, PROMISE BRIDGE was inspired the beautiful song, "Love Can Build a Bridge" performed by the country duo, The Judds. So much so, that they are mentioned in my Acknowledgments at the front of the book and again in my Author's Notes. Often, as I prepared to write or contemplate a scene, listening to Love Can Build a Bridge helped plug me into the emotion of the scene.
4. How do you stay fit and healthy as a writer?
Nothing invigorates and centers me as much as a quiet walk. No iPods, no phone calls… just me and my dog, Sophie. Starting my day with a well-paced walk is good for my mind as well as my body. As I've mentioned earlier, I am most creative when my mind is quiet, so it's not unusual for me to sort out a scene or capture the ideal turn of a phrase for a snippet of dialogue during my morning stroll. I don't force the process. I simply let it percolate.
Sometimes, I let it all go and enjoy the birds and scenery around me, but more often than not, my mind comes alive and readies me for my time at the keyboard. I'm never without a pen and pad in the event ideas begin rushing at me. Of course the physical aspect is no less important. I'm out and moving which is a essential for someone who spends most of her day in front of a computer.
5. Most writers will read inspirational/how-to manuals, take workshops, or belong to writing groups. Did you subscribe to any of these aids and if so which did you find most helpful? Please feel free to name any "writing" books you enjoyed most (i.e. Bird by Bird by Anne Lamott).
This question makes me smile because I've done it all; books, classes, conferences, etc. Each was valuable its own way. First and foremost, these tools and activities brought me together with other writers. People who worked hard to learn their craft, hone their skills, and dared to take on the challenge of getting published. Writers write because we must. It's like breathing; it's a natural part of our being. We write whether we're published or not. We write when there's no guarantee that another soul will ever read as much as one word of what we've poured our hearts and souls into. Sharing that journey with others of like mind reminds us we are not alone. It assures us it is not impossible and gives us a network of support and encouragement.
6. What current projects are you working on and would you like to share some details with the readers?
I'm very excited about my next project which is set in the post-Civil War South. It was a very volatile period, particularly after the assassination of Abraham Lincoln. About a third of the novel is written and the entire story has been plotted. I have paused momentarily to complete some research.
I love the research phase because it's a process of discovery – not just of historical facts, but of tendencies, beliefs, and nuances of the time. Through research, I become better acquainted with my characters and the world around them. Quite often the surprises discovered during research can shift plot lines and shape characters in unexpected ways. Combining research with imagination is the most creative part of the process, and for me, the most exhilarating.
Thanks so much Eileen for answering my questions.  These all sound like great novels.
To enter for 1 copy of Shadow of a Quarter Moon for a U.S./Canada reader:
1.  Leave a comment about what books you've read set during the U.S. Civil War or which you plan to read for this year's War Through The Generations reading challenge.
2.  Facebook, Blog, or Tweet the giveaway for a second entry by leaving a link in the comments.
3.  For a third entry, please follow Eileen on Twitter and/or Facebook and leave a comment telling her you did so with your "handle."
4.  Follow this blog and let me know in the comments (if you follow already, let me know)
Deadline is July 22, 2011, at 11:59PM EST.
***If you are a participant in the War Through the Generations Reading Challenge for the U.S. Civil War, you have another chance to win the book, here. 
Even if you are not in the challenge, please do check out Schwab's guest post on writing about the U.S. Civil War.