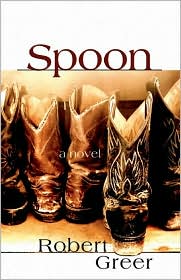 Popular mystery and thriller novels are written by James Patterson, David Baldacci, and others, but Dr. Robert Greer, a professor of pathology and medicine at the University of Colorado School of Medicine and a cattle rancher in Wyoming, is an unlikely addition to this league.  However, he won the Colorado Book Award in Literature last year for his novel Spoon, which is different from his mystery novels in that it chronicles the ranching life of a Montana family, the Darleys.
His latest book, a stand alone thriller, Astride a Pink Horse, is set to be published in March 2012.  The novel "is an an exhilarating ride through a post-Cold War landscape of revenge, murder, and governmental conspiracy, by the author of the acclaimed CJ Floyd mystery series."  Thanks to Caitlin at Caitlin Hamilton Marketing & Publicity for pointing out this author to me.  I've always had a fascination with the Cold War and how a standstill between nations could be called a war and whether an actual build up of weapons occurred or if each nation just made it seem that way.  The rise of KGB and espionage, how can you not be interested in that time period?!
Recently, Greer was interviewed by the Denver Post about his medical career and writing.  Although he is not interested in Facebook or texting, it makes sense given some of the answers he has about his writing life and how he likes his alone time.  I loved his quote about Dostoevsky, though it is spelled wrong in the interview.  You should check out his interview to see the man behind the mysteries.
Greer has a number of mystery novels with the protagonist CJ Floyd, a man who goes into his uncle's bail bondsman business.  Booklist's Wes Lukowsky says, "CJ Floyd is one of crime fiction's hidden gems, and this is a satisfying entry in a rewarding, underappreciated series."  One of the later books in the series, The Mongoose Deception (published in 2007), intrigues me because of its look at the JFK assassination and the conspiracy theorist in me has always been curious about the plot behind the murder of a beloved president.
Here's some praise for the novel:
A Rocky Mountain News Bestseller

A Denver Post Bestseller

Seattle Mystery Bookshop Bestseller

Featured on NPR's "NEWS & NOTES"

"Expertly crafted."—The Denver Post

"African American investigator and bail bondsman C.J. Floyd (The Fourth Perspective) and his cohorts get caught up in a series of murders that may be linked to the assassination of John F. Kennedy…Greer gives the JFK killing a newish spin in a riveting story…"—Library Journal

"Greer is a confident and generous storyteller."—Kirkus Reviews
About the Author:
Robert Greer is the author of the CJ Floyd mystery series, The Devil's Hatband, The Devil's Red Nickel, The Devil's Backbone, Resurrecting Langston Blue, The Fourth Perspective, The Mongoose Deception, Blackbird, Farewell, and the prequel, First of State. In addition, he is the author of a collection of short stories, Isolation and Other Stories and two medical thrillers, Limited Time and Heat Shock, and the novel, SPOON, which among other honors won The Colorado Book Award in Literature in 2010. His short stories have appeared in numerous national literary magazines and two short story anthologies showcasing western fiction. He founded the High Plains Literary Review and reviews books for Denver National Public Radio affiliate, KUVO. Dr. Greer is also a professor of pathology and medicine at the University of Colorado School of Medicine and owns a working cattle ranch in Wyoming. His next book, a stand-alone thriller called Astride a Pink Horse, is due out in March 2010 from North Atlantic Books. Check out his website.
Meanwhile, I've got a great giveaway for you U.S. mystery readers.  Sorry international readers, this is a sponsored giveaway and I won't be mailing out the book.

For a chance to win The Mongoose Deception, leave a comment about what under-the-radar mystery novelist you enjoy most.   Deadline to enter is July 5, 2011, at 11:59PM EST.