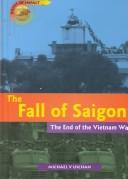 Michael V. Uschan's The Fall of Saigon provides an observant look at the history of how the Vietnam War begins, unfolds, and ends.  Unlike other books on this topic, Uschan begins with the fall of Saigon or the end of the war with one of the largest helicopter evacuations in history.  Although many would argue this is a civil war between its northern and southern counterparts, this war occurred at a time when democratic governments were wary of the spread of communism.
There is a great mix of photos and text in the book to provide a simplified explanation of the war and all of its moving parts.  It does touch upon the My Lai massacre and the deaths of innocent victims, but without the horrifying images that polarized many of those back home.  To teach students about the war, this is an excellent edition, but for children reading about the war on their own, it may be a bit dry.  However, photos often supplement the text and can provide a visual aid to kids.
Even adults can learn or relearn things about the Vietnam War and what may have happened as a result of the war.  For instance, the passage of the War Powers Act in 1973 required all future presidents to gain approval from Congress each time troops are sent into action overseas.
Overall, The Fall of Saigon is for older children, possibly between the ages of 9 and 12, and provides a great deal of information in just 30 pages, but in some ways the text needs to be supplemented with additional material on the Cold War and other events.
This is my 58th book for the 2010 New Authors Reading Challenge.
This is my 13th book for the 2010 Vietnam War Reading Challenge.