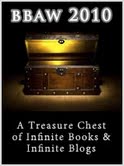 Today is about future goals and treasures.  I'm going to take a new twist on this topic as well.  Since my love of poetry is well known and I know that many of you are reluctant poetry readers, but generous people.  I'm going to put out a call for donations to my favorite poetry organization, The American Academy of Poets.
This organization not only has a free database of information about classic to contemporary poets, but it allows users to read and listen to poems online.  From Apps that bring poetry to your smartphone to local and national events for poets and poetry, the organization's goal is to not only spread the word about the genre, but also support poets through competition for first book prizes and other awards.
Supporting American poets is one goal, but I've always thought one of their overarching goals is to widen the audience for poetry by capturing them online and in person.  I'd like to call on you to donate to this great organization to preserve the future poetry treasure that are yet to be written.
All you have to do to enter this global giveaway is donate — no sum is too small — to the academy, which runs programs for the public and poets, including support for National Poetry Month events across the United States.
Go to Poets.org and use the drop-down "Donate" menu to select Donate Now.

Fill out the required fields
A new screen will give you donation choices from $25-$1,000, but there is also an "Other" selection where you can input any amount.
You can designate any program you like from the drop-down menu.
After inputting your payment information, please paste the following in the comments section "Savvy Verse & Wit Poetry Donation Drive."
Once you've done that, please come back and leave your confirmation number or email it to me at savvyverseandwit at gmail dot com with "Savvy Verse & Wit Poetry Donation Drive" in the subject.

I'll pick a random winner for the following books:
1.  Wishing Trees by John Shors
2.  Safe From the Sea by Peter Geye
Deadline for this GLOBAL giveaway is Sept. 30, 2010 — Deadline extension to Oct. 30, 2010, at 11:59PM EST
THIS GIVEAWAY IS NOW CLOSED!