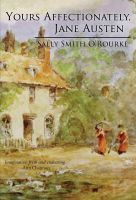 Sally Smith O'Rourke is the author of Yours Affectionately, Jane Austen and The Man Who Loved Jane Austen, which unravel the mysteries of the true Mr. Fitzwilliam Darcy and offer modern day readers a bit of time travel through antiques, forgotten letters, and more.
Today, she's stopping by to talk a little bit about her books and her writing as the 200th anniversary of Pride & Prejudice by Jane Austen comes in 2013.
Please give her a warm welcome.
In spite of the fact that my name alone appears on the cover, The Man Who Loved Jane Austen was, in truth, very much a collaboration with my late husband F. Michael O'Rourke. Kelly, my step-daughter called us an awesome team and we were, in all respects; our life together was a true collaboration. Many projects came out of that collaboration among them two feature films, a few television pilots and several books including Christmas at Sea Pines Cottage, The Maidenstone Lighthouse and, of course, The Man Who Loved Jane Austen.

The road to The Man Who Loved Jane Austen was rather circuitous and, I'm afraid, not particularly romantic even though Mike called it the ultimate valentine because it was brought to life by the love we had for each other.

Technically, I suppose that road began when I was fifteen years old and read Pride and Prejudice, enjoying it thoroughly. One Sunday afternoon a very disappointing film version of it was on television. Greer Garson and Laurence Olivier were much too old to be playing the 20 year old Elizabeth and the 28 year old Darcy but changing the story was entirely unacceptable to my youthful psyche (and my adult psyche). It was my first taste of what Hollywood can and often does do to novels. After that I watched every version of the story but never found one worthy of the book. Then in 1995, as all of you know, the ultimate Pride and Prejudice was produced. A&E along with the BBC did the Andrew Davies/Simon Langton/Sue Britwistle mini-series, staring Jennifer Ehle and Colin Firth. FINALLY a wonderful portrayal of the classic novel.

Moving on to late 1999, the health department recommended that Mike and I vacate our home because of toxic mold, requiring us to leave most of our belongings in the contaminated house. After a few months in a hotel it felt like we never talked or thought about anything but the mold and the pending law suit; our life had seemingly come to a screeching halt. In an attempt to, at the very least, not think about it all the time, we sat down and watched the six hour Pride and Prejudice; in its entirety. It worked; we stopped obsessing about the house and, in fact, the marathon inspired me to read all of Jane Austen's books.

For some reason I had never noticed that there is a theme in all her writings, maybe it was because I'd never read them one after the other but this time I did and found that she made every heroine strong, relatively independent and quite intelligent; not completely unusual in the late eighteenth and early nineteenth centuries however in most fiction women were victims. What made Austen different was not only the strong women but the men who loved them for that strength. It made me want to know more about her, why in an era where women were basically chattel did she feel free enough to write such stories. After delving into her life by reading several biographies, I came to believe she wrote Elizabeth Bennet and the others, in large part, because her father and brothers were fairly opened minded and that their support and strong belief in her talent was at the center of her success.

Another thing that struck me, particularly in Pride and Prejudice was Darcy's ability to look at himself, be dissatisfied and make a concerted effort to reverse his attitudes because as he said after Elizabeth accepts his second proposal, "You shewed me how insufficient were all my pretensions to please a woman worthy of being pleased." To me Darcy felt more like a modern man than a Regency aristocrat.

When Mike suggested that we start a new project by resurrecting a time travel story I had started some time before. I countered that rather than write about a twenty-first century woman who goes into the future we write about a twenty-first century man who falls back into the England of 1810 and becomes Jane Austen's muse and perhaps one of the most quixotic heroes ever written; Fitzwilliam Darcy.

We considered many scenarios before settling on Darcy being the wealthy owner of a two hundred year old Virginia horse breeding estate, Pemberley Farms. The back story we created for his ancestors, was touched on when Eliza is presented to the guests at Darcy's Rose Ball.

I know that many people consider love stories better if they end unhappily, if not tragically (A Walk to Remember; The Way We Were; Gone With The Wind) but I prefer a happy ending, therefore a modern woman had to be able to compete with Jane Austen. New York artist Eliza Knight does just that.

We discussed making Eliza a poor, struggling artist then decided that we didn't want it to be a 'Cinderella' story; you know, rich guy falls for poor girl and they live happily ever after. So she became a relatively successful artist of fantasy drawings that are used on greeting cards, stationary as well as prints. That success allows her to buy an antique vanity and it is behind the vanity's mirror that she discovers letters to and from Jane Austen and Fitzwilliam Darcy, triggering the story.

After completing the manuscript, we type-set, printed and hand bound copies to give as gifts to family and friends. It was received with spirited enthusiasm and Mike and I were proud of our nice little story. Then my world crashed, in November 2001, two weeks before his sixtieth birthday Mike died suddenly; we hadn't gotten out of the house soon enough.

The Man Who Loved Jane Austen was published in 2006. The publisher didn't want two names on the cover and preferred the one be mine since I would be doing the promotion. I regret not insisting that Mike's name be used on the cover as a tribute to him. But regret serves no useful purpose and at least his work is being enjoyed by people all over the world.

I've always thought it odd that no journal or diary kept by Jane Austen has survived so I started what was going to be a fun little project, to create a journal that would be Jane's perspective of spring 1810 when she met the American Darcy. At the end of one journal entry she writes, "I wonder what Mr. Darcy is doing at this moment". I left off doing the journal and began writing what Mr. Darcy was doing and suddenly the continuation of The Man Who Loved Jane Austen came into existence.

Besides who was I to try and write as if I was Jane Austen? Yours Affectionately, Jane Austen is no longer a journal but it does reacquaint readers with 21st century American horseman Fitzwilliam Darcy and his influence on the English novelist and her writings; at the same time delving into the complex nature of the man who became the embodiment of one of the most romantic characters in English literature.

The blossoming romance between Fitzwilliam Darcy and Eliza Knight, the modern-day woman who gave Darcy the letters proving that he did make a trip through time and met Jane Austen, is juxtaposed with Jane's life as she copes with the subtle celebrity of being the 'Lady' who wrote Sense and Sensibility and Pride and Prejudice.

In celebration of the coming 200th anniversary of Pride and Prejudice and in tribute to the iconic author Yours Affectionately, Jane Austen is now available in eBook formats from Amazon for Kindle and Smashwords.com for all other eReader formats. In tribute to Michael, Yours Affectionately, Jane Austen will be released in print November 29th, his birthday.

Austenticity.com, the website where Eliza first discovers that Fitzwilliam Darcy is real is also real. The everything Austen site is a good place to go for a visit and to spend a bit of time with the inimitable and beloved Jane Austen.

I also have a blog at sallysmithorourke.com where I will be posting the progress of my next novel, Physician, Heal Thyself.
Thanks, Sally for sharing your writing and inspiration with us.
About the Author:
Sally Smith O'Rourke lives in the Victorian village of Monrovia, California, close to her job in a local hospital where she spends most of her daylight hours in the operating room as a scrub nurse. She was widowed some time ago, and has very domestic hobbies like sewing, cooking, baking, candy making, and cake decorating. And she writes. Catch her on her blog, on Facebook, on Twitter, and her Website.
Here's an additional treat for you, an excerpt from Chapter 5 of Yours Affectionately, Jane Austen:
Although the sun was fully up in the Virginia summer sky, it was not yet hot. Fitz found jumping exhilarating; the cool morning air caressing his face, and Lord Nelson, so strong and graceful, took all the jumps with no effort.

Heritage Week was over so things could get back to normal. He shrugged. Whatever normal is. He realized there was a very good chance that his normal was about to change radically. Eliza's letter—the one she had found written to him from Jane—had ended his search for the truth of his Regency encounter. But Eliza did much more than give him the letter.

He had been merely surviving, not living, in the years since his mother's death. He'd thrown himself into the business of Pemberley Farms to the exclusion of almost everything else. Eliza's arrival had heralded an acute awareness of that fact. It was as though a light was suddenly shining so he could see the world around him. She made him want to live again. And she had given him the letter… Jane's letter.

Fitz reined Lord Nelson to a walk as they entered the cool shade of the woods on the edge of his property.

Jane. He had spent more than three years seeking proof of his meeting with her and of her feelings for him. Almost as if he'd been transported again back to Chawton in 1810, the image of Jane's sweet face flooded his mind. He thought back to that morning and his inauspicious entrance into Jane Austen's life.

The combination of his head injury and the laudanum prescribed by Mr. Hudson, the Austen family physician, caused Darcy to slip in and out of consciousness. He tried to sit up, the effort making him dizzy.

Jane gently laid a hand on his chest. "Please, Mr. Darcy, Mr. Hudson wants you to remain still."

Through a cotton mouth, his head spinning, Darcy asked, "Mr. Hudson?"

"The doctor," Jane said. "You must rest now Mr. Darcy." The American looked at her face. Her curiosity was palpable even in his drugged state. Unable to think clearly, never mind responding to questions he wasn't sure he could answer, he closed his eyes completely and turned his head away.

Jane returned to her vanity table where she continued to write; a single candle and the flames in the fireplace her only light. Interrupted in her writing by a low murmur from Darcy, she took the candle and quietly approached the bed. He was tossing back and forth, his face flushed and contorted; he was speaking in quiet tones, a hodgepodge of words that meant nothing to her. He spoke what she could only suppose were the nonsensical ramblings of a sick brain; she attributed words like television and jet to his head injury and delirium. She placed her hand softly on his cheek and was distressed by the heat radiating from him. Using fresh linen soaked in water from the pitcher on her wash stand, Jane swabbed his face and neck, then laid it across his forehead. It seemed to calm him and she went back to her writing.

Each time he grew restless Jane stopped writing and went to the bed to refresh the linen with cool water. After three episodes in close succession she remained on the edge of the bed so she was at hand, and each time he started to toss and turn she would caress his face and neck with the cool, damp linen in hopes that it would, in time, reduce his fever.

She stayed there until Darcy's features turned placid and he was breathing more evenly. He finally seemed to be sleeping comfortably. She laid her small, soft hand on his cheek. The fever was broken. She dropped the cloth into the basin. Stiff from sitting in one position for so long without support, she stood up and stretched. She was not particularly tired but needed to get some rest.

Quietly she crossed the wooden floor and slipped the small pages of writing she was working on into the drawer of the vanity, then took a nightgown from the closet next to the fireplace. Glancing back at the bed she stepped behind the screen.

He opened his eyes just enough to see her slender, full-breasted figure silhouetted on the muslin screen, back-lit by the remnants of the fire as the light fabric of her nightgown floated down to envelope her.

Jane stopped at the bed before making her way to Cassandra's room for a few hours of sleep. As she stood over him he watched surreptitiously through the veil of his eyelashes. She leaned down and whispered, "Good night, Mr. Darcy," almost brushing his lips with her own. In spite of his continuing laudanum haze, he could see that her eyes were filled with a tenderness that caused him to grab her hand as she straightened up; he didn't want her to go.

Without opening his eyes or letting go of her hand he said, "Please don't leave me."