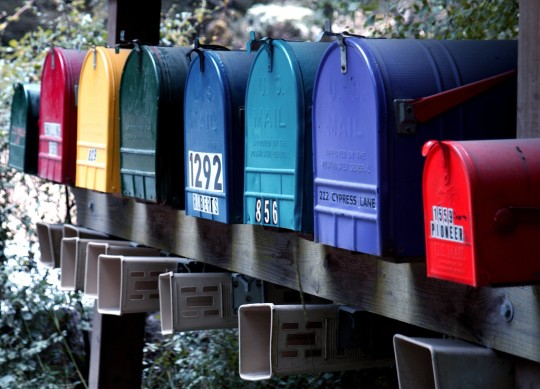 Mailbox Monday has become a tradition in the blogging world, and many of us thank Marcia of The Printed Page for creating it.
It now has it's own blog where book bloggers can link up their own mailbox posts and share which books they bought or which they received for review from publishers, authors, and more.
Leslie, Martha, and I also will share our picks from everyone's links in the new feature Books that Caught Our Eye. We hope you'll join us.
Here's what I received:
The Manic Pixie Dream Boy Improvement Project by Lenore Appelhans, which I purchased.
Riley lives in TropeTown, where everyone plays stock roles in novels. Riley, a Manic Pixie Dream Boy, is sent to group therapy after going off-script. Riley knows that breaking the rules again could get him terminated, yet he feels there must be more to life than recycling the same clichés for readers' entertainment. Then he meets Zelda, a Manic Pixie Dream Girl (Geek Chic subtype), and falls head over heels in love. Zelda's in therapy too, along with several other Manic Pixies. But TropeTown has a dark secret, and if Riley and his fellow Manic Pixies don't get to the bottom of it, they may all be terminated.
Seasons in Time by Cat Gardiner, which came as a surprise from the author.
Romance, history, and memories of old are only part of what makes the 130 year old Time & Again antique shop so special.For Lizzy Bennet, what begins as a simple visit to Time & Again turns into so much more than discovering trinkets from the past. An unlikely friendship forms with the elderly shopkeeper who sends her on a journey of a lifetime─through a time portal. Love and lessons await her when she leaves her mobile device behind and finally looks up. Travel with Lizzy back to wartime 1940s─where her heart opens and future changes thanks to one dashing G.I: William Darcy and the magic of an antique shop.
As One Fire Consumes Another by John Sibley Williams, a review copy from the poet.
What happens when metaphysics and social critique meet? Poetry that has to find a new form to express the tension it embodies. John Sibley Williams' newspaper-like columns in As One Fire Consumes Another do just that. Here, transcendent vision and trenchant social insight meet, wrestle, and end up revitalizing one another.
Praying with Jane by Rachel Dodge from Anna at Diary of an Eccentric.
The charm of Jane Austen and her novels has been enjoyed for over 200 years by readers around the world. Much has been written about her fascinating life, yet little is known about Jane's spiritual side. In this lovely 31-day devotional, you will get an in-depth look at Miss Austen's vibrant, steadfast prayer and faith life. Her intimate relationship with the Father comes to life through her exquisite prayers, touching biographical anecdotes, intimate excerpts from family letters and memoirs, and illuminating scenes from her novels.

Spiritual insights and Scripture references shed light on the profound meaning behind Miss Austen's prayers and the enduring truths they contain. Each day ends with a key Bible verse and invitation to "pray with Jane," helping to ignite and deepen your own vibrant relationship with the Father.
The Eight Mountains by Paolo Cognetti from Anna at Diary of an Eccentric.
For fans of Elena Ferrante and Paulo Coelho comes the international sensation about the friendship between two young Italian boys from different backgrounds and how their connection evolves and challenges them throughout their lives.

Pietro is a lonely boy living in Milan. With his parents becoming more distant each day, the only thing the family shares is their love for the mountains that surround Italy.

While on vacation at the foot of the Aosta Valley, Pietro meets Bruno, an adventurous, spirited local boy. Together they spend many summers exploring the mountains' meadows and peaks and discover the similarities and differences in their lives, their backgrounds, and their futures. The two boys come to find the true meaning of friendship and camaraderie, even as their divergent paths in life—Bruno's in the mountains, Pietro's across the world—test the strength and meaning of their connection.
What did you receive?