Mailbox Monday, created by Marcia at To Be Continued, formerly The Printed Page, has a permanent home at its own blog.
To check out what everyone has received over the last week, visit the blog and check out the links.  Leave yours too.
Also, each week, Leslie, Vicki, and I will share the Books that Caught Our Eye from everyone's weekly links.
Here's what I received:
1. The Madness of Mr. Darcy by Alexa Adams, a nice thank you gift from the author.
The year is 1832 and regrets beleaguer Fitzwilliam Darcy. All he ever cared for has been taken from him: his pride, his sister, and his true love, Elizabeth Bennet. Now, having nearly murdered a man in a fit of rage, he might lose Pemberley, too. More than just his home, his very identity is at stake. In desperation, he seeks the help of Dr. Frederick Wilson, owner and proprietor of Ramsey House, a madhouse for fine ladies and gentlemen. Is Darcy's confinement the inevitable end to his tortured descent, or will he rediscover what he lost in the most unlikely of places?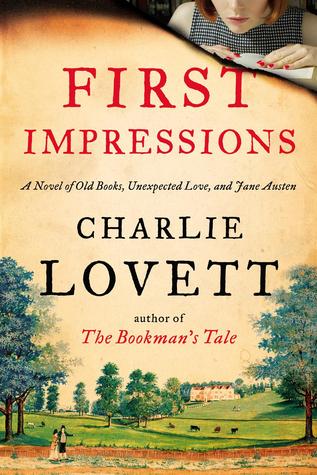 2.  First Impressions by Charlie Lovett from the publisher for review.
Book lover and Austen enthusiast Sophie Collingwood has recently taken a job at an antiquarian bookshop in London when two different customers request a copy of the same obscure book: the second edition of Little Book of Allegories by Richard Mansfield.  Their queries draw Sophie into a mystery that will cast doubt on the true authorship of Pride and Prejudice—and ultimately threaten Sophie's life.

In a dual narrative that alternates between Sophie's quest to uncover the truth—while choosing between two suitors—and a young Jane Austen's touching friendship with the aging cleric Richard Mansfield, Lovett weaves a romantic, suspenseful, and utterly compelling novel about love in all its forms and the joys of a life lived in books.
3.  By the Book: Writers on Literature and the Literary Life from The New York Times Book Review edited by Pamela Paul and foreword from Scott Turow for review from the publisher.
Sixty-five of the world's leading writers open up about the books and authors that have meant the most to them

Every Sunday, readers of The New York Times Book Review turn with anticipation to see which novelist, historian, short story writer, or artist will be the subject of the popular By the Book feature. These wide-ranging interviews are conducted by Pamela Paul, the editor of the Book Review, and here she brings together sixty-five of the most intriguing and fascinating exchanges, featuring personalities as varied as David Sedaris, Hilary Mantel, Michael Chabon, Khaled Hosseini, Anne Lamott, and James Patterson. The questions and answers admit us into the private worlds of these authors, as they reflect on their work habits, reading preferences, inspirations, pet peeves, and recommendations.

By the Book contains the full uncut interviews, offering a range of experiences and observations that deepens readers' understanding of the literary sensibility and the writing process. It also features dozens of sidebars that reveal the commonalities and conflicts among the participants, underscoring those influences that are truly universal and those that remain matters of individual taste.
What did you receive?