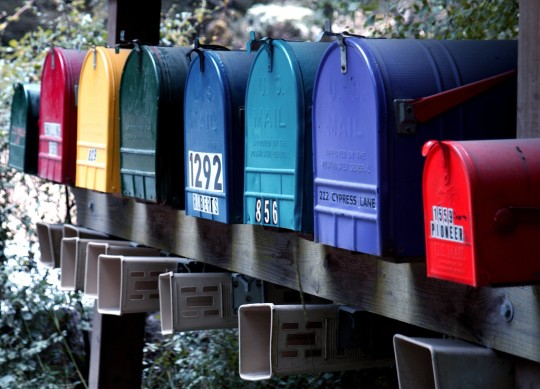 Mailbox Monday has become a tradition in the blogging world, and many of us thank Marcia of The Printed Page for creating it.
It now has it's own blog where book bloggers can link up their own mailbox posts and share which books they bought or which they received for review from publishers, authors, and more.
Leslie, Martha, and I also will share our picks from everyone's links in the new feature Books that Caught Our Eye. We hope you'll join us.
Here's what I received:
Lucky Suit by Lauren Blakely, narrated by Zachary Webber and Andi Arndt, from Audible.
I'm breaking up with setups. No more "you should meet my son, nephew, grandson, the butcher, the guy down the street who mows my lawn." People mean well, but machines know better, so I'll rely on the great dating algorithms of the web to find my ideal man, thank you very much.

Soon enough, it looks like I've found him – his screen name is Lucky Suit, and he's hilarious, quick-witted, and full of heart. But when we finally get together in person, I have the distinct feeling I've met him before. Funny enough – he says the same thing about me.

Turns out, there's something fishy about our meetup, and when we find out what truly brought us together, all bets are off as to whether we can trust our hearts over our heads. Can you fall in love with someone you're not sure you really know?
For Every One by Jason Reynolds, which we purchased for our daughter. Here's the review.
For Every One is exactly that: for every one. For every one person. For every one who has a dream. But especially for every kid. The kids who dream of being better than they are. Kids who dream of doing more than they almost dare to imagine. Kids who are like Jason Reynolds, a self-professed dreamer. Jason does not claim to know how to make dreams come true; he has, in fact, been fighting on the front line of his own battle to make his own dreams a reality. He expected to make it when he was sixteen. Then eighteen. Then twenty-five. Now, some of those expectations have been realized. But others, the most important ones, lay ahead, and a lot of them involve kids, how to inspire them: All the kids who are scared to dream, or don't know how to dream, or don't dare to dream because they've NEVER seen a dream come true. Jason wants kids to know that dreams take time. They involve countless struggles. But no matter how many times a dreamer gets beat down, the drive and the passion and the hope never fully extinguishes—because simply having the dream is the start you need, or you won't get anywhere anyway, and that is when you have to take a leap of faith.
Spirit Riding Free: Lucky's Guide to Horses and Friendship by Stacia Deutsch , which we purchased for our daughter.
In this must-have guidebook, Lucky Prescott and her friends teach readers about the things they love most of all: the small frontier town of Miradero, all things horses, and the fun that comes with being with best friends! The PALs and other key characters from the hit Netflix show guide readers through pages of interactive quizzes about which of the PALs they are, recipes for horse-friendly cookies, easy-to-make crafts, and so much more! With nonfiction elements about horse care and plenty of playful games and activities, this guide is the perfect gift for Spirit Riding Free fans.
Hidden Figures by Margot Lee Shetterly and Laura Freeman, which we purchased for our daughter.
Based on the New York Times bestselling book and the Academy Award–nominated movie, author Margot Lee Shetterly and Coretta Scott King Illustrator Honor Award winner Laura Freeman bring the incredibly inspiring true story of four black women who helped NASA launch men into space to picture book readers!

Dorothy Vaughan, Mary Jackson, Katherine Johnson, and Christine Darden were good at math…really good.

They participated in some of NASA's greatest successes, like providing the calculations for America's first journeys into space. And they did so during a time when being black and a woman limited what they could do. But they worked hard. They persisted. And they used their genius minds to change the world.

In this beautifully illustrated picture book edition, we explore the story of four female African American mathematicians at NASA, known as "colored computers," and how they overcame gender and racial barriers to succeed in a highly challenging STEM-based career.
We Are Displaced by Malala Yousafzai, which I purchased.
In her powerful new book, Nobel Peace Prize winner and New York Times-bestselling author Malala Yousafzai introduces some of the people behind the statistics and news stories about the millions of people displaced worldwide.

Malala's experiences visiting refugee camps caused her to reconsider her own displacement — first as an Internally Displaced Person when she was a young child in Pakistan, and then as an international activist who could travel anywhere in the world except to the home she loved. In We Are Displaced, which is part memoir, part communal storytelling, Malala not only explores her own story, but she also shares the personal stories of some of the incredible girls she has met on her journeys — girls who have lost their community, relatives, and often the only world they've ever known.

In a time of immigration crises, war, and border conflicts, We Are Displaced is an important reminder from one of the world's most prominent young activists that every single one of the 68.5 million currently displaced is a person — often a young person — with hopes and dreams.
Olivia Otter Builds Her Raft by Dara Kass and Jessica Piazza, which I purchased.
Olivia is a very strong swimmer and is doing fine on her own, until one day a big storm shows her that there is more to life. Travel with Olivia as she builds her raft of amazing otters who face adversity, support each other, and learn to believe in themselves and the power of teamwork.
What did you receive?