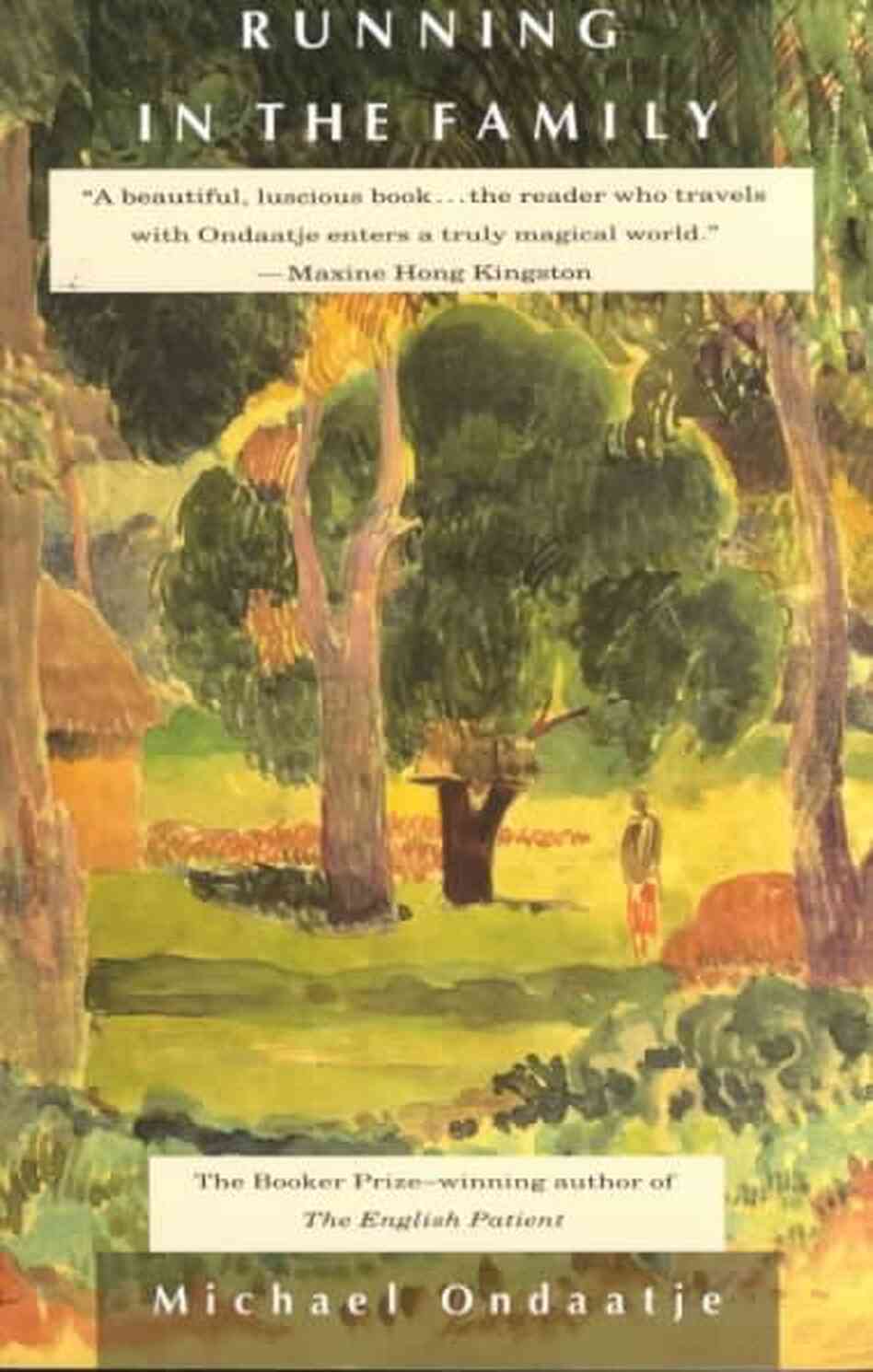 Source: Public Library
Paperback, 207 pages
I am an Amazon Affiliate
Running in the Family by Michael Ondaatje is a travel and family memoir (highly recommended by Beth Kephart), and he says that it is a composite of two return trips to Sri Lanka, formally known as Ceylon, in the 1970s, as well as endless stories and questions-and-answers from family members and those that knew his father Mervyn best.  Michael is among the youngest of the family, having left Ceylon when he was 11 after his mother and father divorced.  Much of this memoir borders between fiction and truth, but like all memories and perceptions, the story of someone's life can be as fluid as the relationships that begin and end with and around them.  The crux of this memoir, in which Ondaatje embarks on his own journey of remembering about his family and the country he came from, is about the fluidity of memory and the inability to truly know even our closest family members.
"What began it all was the bright bone of a dream I could hardly hold onto.  I was sleeping at a friend's house.  I saw my father, chaotic, surrounded by dogs, and all of them were screaming and barking into the tropical landscape.  The noises woke me.  I sat up on the uncomfortable sofa and I was in a jungle, hot, sweating."  (page 21)
Ondaajte's magical realism shines through in the narrative, particularly as he takes trips to the former family home and into the jungle.  There are humorous anecdotes about his grandmother, Lalla, who clearly had a love for life and freedom.  There is one incident in which she doesn't realize her breast is being fondled by a stranger on the bus, but the reasoning is something very unexpected.  His father and grandmother did not get along well, and whether that is because Mervyn is a victim of dipsomania, also known as alcoholism, or Lalla's inhibition after her husband's death that enables her to do as she pleases without one thought to the consequences.  
More than anything, Ondaatje's memoir is about learning about his family's outrageous past in a time of excess (1920s), but also realizing that there are mysteries about the interconnectedness of their lives that may never be resolved.  He must come to terms with what he knows about his family through his own memories and that of others and what will always remain a mystery — how can he reconcile the two.  But this is not just all prose, he also illuminates some of the family stories with poetry.  Running in the Family by Michael Ondaatje is sparkling in the jungle, a bead of sweat that slithers down your arm and seeps beneath the skin and causes a startling chill.
About the Author:
Michael Ondaatje is one of the world's foremost writers – his artistry and aesthetic have influenced an entire generation of writers and readers. Although he is best known as a novelist, Ondaatje's work also encompasses poetry, memoir, and film, and reveals a passion for defying conventional form. His transcendent novel The English Patient, explores the stories of people history fails to reveal by intersecting four diverse lives at the end of World War II. This bestselling novel was later made into an Academy Award-winning film.