Mailbox Monday, created by Marcia at To Be Continued, formerly The Printed Page, has a permanent home at its own blog.
To check out what everyone has received over the last week, visit the blog and check out the links.  Leave yours too.
Also, each week, Leslie, Vicki, and I will share the Books that Caught Our Eye from everyone's weekly links.
Here's what I received:
1.  Hummingbirds in Winter by Anna Franco from Anna.
Hummingbirds in Winter is a work of fiction about a composer, Ben Solansky, who is determined to bring his family to safety, as the Nazis take over Europe. As he travels in search of a new homeland, Solansky relies on his compositions to give him strength.
2. A Tender Struggle by Krista Bremer came from Algonquin Books, which I passed onto a friend because I have the original one titled My Accidental Jihad.
Fifteen years ago, Krista Bremer was a surfer and an aspiring journalist who dreamed of a comfortable American life of adventure, romance, and opportunity. Then, on a running trail in North Carolina, she met Ismail, sincere, passionate, kind, yet from a very different world. Raised a Muslim–one of eight siblings born in an impoverished fishing village in Libya–his faith informed his life. When she and Ismail made the decision to become a family, Krista embarked on a journey she never could have imagined, an accidental jihad: a quest for spiritual and intellectual growth that would open her mind, and more important, her heart.
3.  Changes: A Child's First Poetry Collection by Charlotte Zolotow, illustrated Tiphanie Beeke for review from Sourcebooks.
As the seasons change, there is new beauty waiting to be discovered. Charlotte Zolotow's classic poems paired with Tiphanie Beeke's lovely illustrations make for a perfect poetry collection for every child.

Charlotte Zolotow-author, editor, publisher, and educator-had one of the most distinguished careers in the field of children's literature. Born in Norfolk, Virginia in 1915, Changes: A Child's First Collection of Poetry is published on the occasion of Charlotte Zolotow's 100th birthday.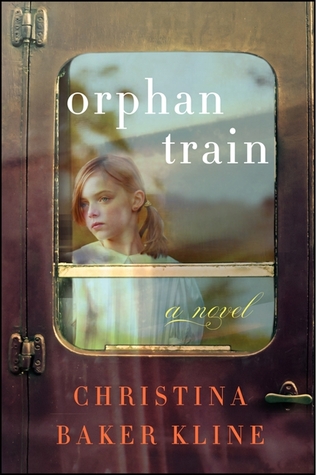 4.  Orphan Train by Christina Baker Kline from the library sale 50 cents.
Nearly eighteen, Molly Ayer knows she has one last chance. Just months from "aging out" of the child welfare system, and close to being kicked out of her foster home, a community service position helping an elderly woman clean out her home is the only thing keeping her out of juvie and worse.

Vivian Daly has lived a quiet life on the coast of Maine. But in her attic, hidden in trunks, are vestiges of a turbulent past. As she helps Vivian sort through her possessions and memories, Molly discovers that she and Vivian aren't as different as they seem to be. A young Irish immigrant orphaned in New York City, Vivian was put on a train to the Midwest with hundreds of other children whose destinies would be determined by luck and chance.

The closer Molly grows to Vivian, the more she discovers parallels to her own life. A Penobscot Indian, she, too, is an outsider being raised by strangers, and she, too, has unanswered questions about the past. As her emotional barriers begin to crumble, Molly discovers that she has the power to help Vivian find answers to mysteries that have haunted her for her entire life – answers that will ultimately free them both.
5.  William Shakespeare's The Phantom of Menace by Ian Doescher from Anna.
The popular, NYT best-selling Elizabethan/sci-fi mashup series continues, with a Shakespearean take on the first Star Wars prequel, The Phantom Menace. When the best-selling William Shakespeare's Star Wars presented the classic George Lucas film in the form of an Elizabethan drama, the results blew the minds of Star Wars fans and Shakespeare buffs alike. Now the curtain rises once again on that star-crossed galaxy far away, this time revealing the tragedy, hubris, and doomed romance that will lead to the fall of the Republic and the rise of an Empire. The saga starts here with this reimagining of Episode I, a prequel tale in which a disguised queen, a young hero, and two fearless knights clash with a hidden, vengeful enemy. Masterful meter, Shakespearean soliloquies and intricate Elizabethan illustrations will leave more than a few readers convinced that the Star Wars saga sprang straight from the Bard's quill.
6.  Born Survivors by Wendy Holdren for review.
The Nazis murdered their husbands but concentration camp prisoners Priska, Rachel, and Anka would not let evil take their unborn children too—a remarkable true story that will appeal to readers of The Lost and The Nazi Officer's Wife, Born Survivors celebrates three mothers who defied death to give their children life.

Eastern Europe, 1944: Three women believe they are pregnant, but are torn from their husbands before they can be certain. Rachel is sent to Auschwitz, unaware that her husband has been shot. Priska and her husband travel there together, but are immediately separated. Also at Auschwitz, Anka hopes in vain to be reunited with her husband. With the rest of their families gassed, these young wives are determined to hold on to all they have left—their lives, and those of their unborn babies. Having concealed their condition from infamous Nazi doctor Josef Mengele, they are forced to work and almost starved to death, living in daily fear of their pregnancies being detected by the SS.

In April 1945, as the Allies close in, Priska gives birth. She and her baby, along with Anka, Rachel, and the remaining inmates, are sent to Mauthausen concentration camp on a hellish seventeen-day train journey. Rachel gives birth on the train, and Anka at the camp gates. All believe they will die, but then a miracle occurs. The gas chamber runs out of Zyklon-B, and as the Allied troops near, the SS flee. Against all odds, the three mothers and their newborns survive their treacherous journey to freedom.
What did you receive?