Mailbox Monday, created by Marcia at To Be Continued, formerly The Printed Page, has a permanent home at its own blog.
To check out what everyone has received over the last week, visit the blog and check out the links. Leave yours too.
Also, each week, Leslie, Vicki, and I will share the Books that Caught Our Eye from everyone's weekly links.
Here's what I received:
Saris and a Single Malt by Sweta Srivastava Vikram, which I purchased. Follow the blog tour with Poetic Book Tours.
Saris and a Single Malt is a moving collection of poems written by a daughter for and about her mother. The book spans the time from when the poet receives a phone call in New York City that her mother is in a hospital in New Delhi, to the time she carries out her mother's last rites. The poems chronicle the author's physical and emotional journey as she flies to India, tries to fight the inevitable, and succumbs to the grief of living in a motherless world. Divided into three sections, (Flight, Fire, and Grief), this collection will move you, astound you, and make you hug your loved ones.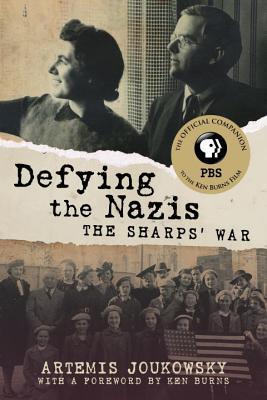 Defying the Nazis: The Sharps' War by Artemis Joukowsky, Ken Burns, which I won from LibraryThing Early Reviewers.
Official companion to the Ken Burns film premiering September 20, 2016, on PBS tells the little-known story of the Sharps, an otherwise ordinary couple whose faith and commitment to social justice inspired them to undertake dangerous rescue and relief missions across war-torn Europe, saving the lives of countless refugees, political dissidents, and Jews on the eve of World War II.

In 1939, Rev. Waitstill Sharp, a young Unitarian minister, and his wife, Martha, a social worker, accepted a mission from the American Unitarian Association: they were to leave their home and young children in Wellesley, Massachusetts, and travel to Prague, Czechoslovakia, to help address the mounting refugee crisis. Armed with only $40,000, the Sharps quickly learned the art of spy craft and covertly sheltered political dissidents and Jews, and helped them escape the Nazis. After narrowly avoiding the Gestapo themselves, the Sharps returned to Europe in 1940 as representatives of the newly formed Unitarian Service Committee and continued their relief efforts in Vichy France. This compulsively readable true story offers readers a rare glimpse at high-stakes international relief efforts during WWII. Defying the Nazis is a fascinating portrait of resistance as told through the story of one courageous couple.
Mr. Darcy's Journey by Abigail Reynolds for review from the author.
Mr. Darcy is at his wits' end. Elizabeth Bennet, the woman he can't live without, overhears him insulting her family. Now she won't even listen to his apologies. Then his old friend Sir Anthony Duxbury tells him two of their friends are in terrible danger. If Darcy wants to help them, they have to leave for Yorkshire immediately.

But something doesn't add up. Elizabeth claims to know Sir Anthony, too – but by a different name. What game is his old friend playing? And is it dangerous?

Even Sir Anthony says the trip is dangerous. The Luddite rebels are on the verge of armed revolt – and he should know, because he's one of them. Darcy's cousin Lady Frederica decides she's going with them anyway, and insists on bringing Elizabeth. Could this be Darcy's chance to earn Elizabeth's forgiveness and her love?

Elizabeth would rather face a squad of Napoleon's soldiers than spend three days trapped in a carriage with Darcy and his headstrong cousin, but she has her own reason for agreeing to come. If she can just manage to keep her temper, she may be able to rescue her uncle from financial ruin.

But when a Luddite riot erupts around them, it's Darcy and Elizabeth who need rescuing – from each other.
What did you receive?
Save