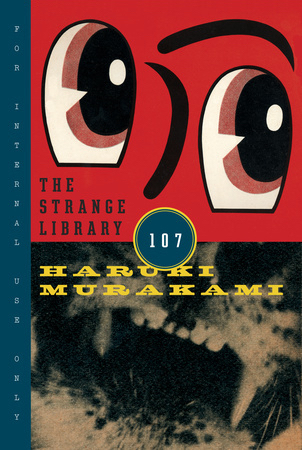 Source: Public Library
Paperback, 96 pgs
On Amazon and on Kobo
The Strange Library by Haruki Murakami, translated by Ted Goossen, is a novella and a dark fairy tale that brings a young teen into the depths of the library's labyrinth.  The teenage boy loves to read and abides his mother, but the library seems to be his home on many levels until he enters room 107.  From there stranger things happen and the boy meets a sheep man and a mysterious and pretty girl.  Murakami has a wild imagination and it comes to life in these pages.  He's created a world that is fantastical and odd, but the threats and tensions are real, leaving the reader sweating and despairing alongside his protagonist.
The text is accompanied by odd little drawings and magazine-like images, which add more of a creep factor to the story.  The copy from the library had an odd cover that had one flap flipping up and one flipping down, which could be used as a bookmark, but while reading, they tended to get in the way.  However, that wasn't enough to detract from the creepy story that unfolded in these pages.  Murakami clearly has a vivid imagination in which animals and men can crossover into different planes of existence.  While many of us enjoy books, reading, and our libraries, The Strange Library by Haruki Murakami, translated by Ted Goossen, sure will give readers a reason to pause before entering their libraries again.
About the Author:
Haruki Murakami (Japanese: 村上 春樹) is a popular contemporary Japanese writer and translator. His work has been described as 'easily accessible, yet profoundly complex'.  Since childhood, Murakami has been heavily influenced by Western culture, particularly Western music and literature. He grew up reading a range of works by American writers, such as Kurt Vonnegut and Richard Brautigan, and he is often distinguished from other Japanese writers by his Western influences.  Murakami studied drama at Waseda University in Tokyo, where he met his wife, Yoko.