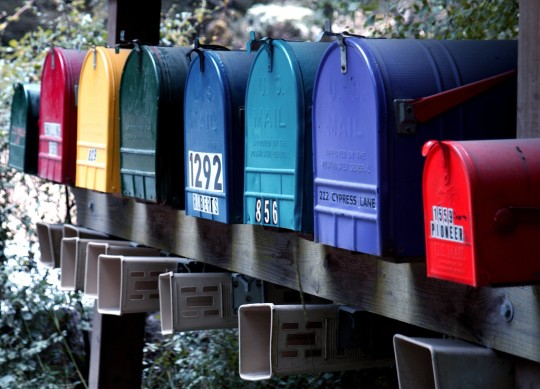 Mailbox Monday has become a tradition in the blogging world, and many of us thank Marcia of The Printed Page for creating it.
It now has it's own blog where book bloggers can link up their own mailbox posts and share which books they bought or which they received for review from publishers, authors, and more.
Leslie, Martha, and I also will share our picks from everyone's links in the new feature Books that Caught Our Eye. We hope you'll join us.
Here's what I received:
Turn It Up!: A Pitch Perfect History of Music that Rocked the World for review from Media Masters Publicity and National Geographic Kids.
The high notes and biggest moments in music history are covered in this fun compendium. You'll learn about the world's most famous musicians through the eras, from Bach to the Beatles to Beyonce — and beyond. Many major music genres are playfully explained, from tribal, classical, jazz, folk, rock … all the way to today's modern forms, such as k-pop, hip-hop, and rap. Instruments and sounds are explored, along with places and events in history that inspired the evolution of music. Kids will also get a sense of music theory, instrumentation, and the artistry of distinctive musical styles. Song recommendations help readers open their ears to what they've learned. Add to that amazing images, a rockin' glossary of musical terms, and a timeline that plots each genre on its path from ancient history to today, and this book is bound to top the charts!
We Love Babies by Jill Esbaum for review from Media Masters Publicity and National Geographic Kids.
This hilarious picture book with rollicking, rhyming text reads like a crowd-pleasing call, pumping up readers' excitement for the cutest baby animals ever. Illustrated with lively National Geographic photography, We Love Babies! presents furred, feathered, and finned baby animals of all shapes and sizes. Whimsical cartoon cheerleaders add to the fun, popping up throughout the book to lead fans in the irresistible refrain: "We love babies, yes we do, we love babies, how about you?"
Wickham's Folly by Philippa J. Rosen, a Kindle freebie.
George Wickham had no intention of joining the army. However, after a night drinking gin with his friend Tom, he awakes the next morning an enlisted soldier.

He is posted to a small town in Hertfordshire and meets a variety of people. He makes friends with a couple who have five daughters and plans to marry one of the older daughters in order to inherit her father's wealth. At the same time, he intends to become better acquainted with the youngest daughter, Lydia. For good measure he tries to a young clergyman of his money by fraudulent means.

His plans are thwarted however, and he flees to London. Thanks to the intervention of a gentleman from Derbyshire he is forced to marry Lydia and takes a commission in the north of England.

He is content to be a soldier as long as Napoleon is still exiled in Elba. When Napoleon escapes though his regiment sail for Europe at once.

At the Battle of Waterloo, Wickham somehow becomes a hero. But is there more to his heroic actions than meets the eye? The young clergyman travels to give spiritual assistance to the English soldiers, and it is there that he discovers Wickham's secret…
Georgiana Darcy's Secret Letters by Francine Howarth and Pat Jackson, a Kindle freebie.
The shy reclusive sister of Fitzwilliam Darcy loves the wide open spaces of the Derbyshire Dales, where her favoured pastime steals her away from her dour existence at Pemberley. Whilst the memory of George Wickham lingers as a reminder of a past mistake, Georgiana rebels and embraces the writing of clandestine letters. But can she really trust a battle hardened officer to rein back when burgeoned desire wells in the heat of the moment, and dare she risk her reputation for the love of Lt James Dolby, Viscount Welton?
Jeopardy in January by Camilla Chafer, a Kindle freebie.
Sara Cutler loves her job as head librarian of the public library, an integral part of the historic heart of the picturesque mountain town, Calendar. The combination of old books, quirky clientele, and endless reading is nothing less than perfection for Sara. So when she discovers a body in the rare books section that threatens to destroy her quiet existence, along with the imminent demise of the library, Sara vows to find the killer.

She never expects to receive any help from Jason Rees, the handsome, big city developer whose only objective is to get rid of the library. Sara assumes he is counting on the murder to serve as the final death knell his firm needs to demolish the library. However, that doesn't prevent him from falling head over heels for the very woman with whom he's clashing.

When news arrives that the dead woman was nothing that she appeared to be, the whole town is instantly enthralled by the concept of having an actual jewel thief in their midst. Even more puzzling is: where did she hide her stolen treasure?

All Sara must do to save the library is simply solve the murder, find the hidden jewels, and convince herself not to succumb to the one man she would rather see run out town. It doesn't take long before she realizes that amateur sleuthing isn't as easy in real life as it is in the stories she loves to read.
What did you receive?