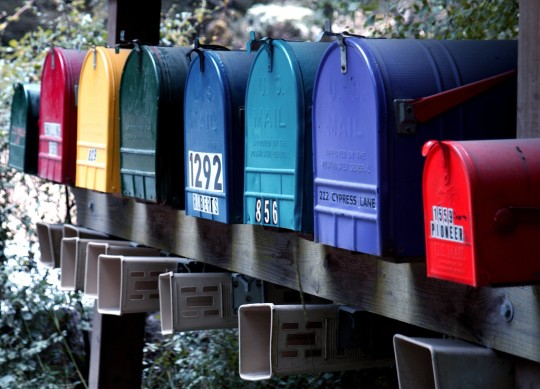 Mailbox Monday has become a tradition in the blogging world, and many of us thank Marcia of The Printed Page for creating it.
It now has it's own blog where book bloggers can link up their own mailbox posts and share which books they bought or which they received for review from publishers, authors, and more.
Leslie, Martha, and I also will share our picks from everyone's links in the new feature Books that Caught Our Eye. We hope you'll join us.
Here's what I received:
Marilla of Green Gables by Sarah McCoy, which I purchased at the Gaithersburg Book Festival.
A bold, heartfelt tale of life at Green Gables . . . before Anne: A marvelously entertaining and moving historical novel, set in rural Prince Edward Island in the nineteenth century, that imagines the young life of spinster Marilla Cuthbert, and the choices that will open her life to the possibility of heartbreak—and unimaginable greatness.

Plucky and ambitious, Marilla Cuthbert is thirteen years old when her world is turned upside down. Her beloved mother has dies in childbirth, and Marilla suddenly must bear the responsibilities of a farm wife: cooking, sewing, keeping house, and overseeing the day-to-day life of Green Gables with her brother, Matthew and father, Hugh.

In Avonlea—a small, tight-knit farming town on a remote island—life holds few options for farm girls. Her one connection to the wider world is Aunt Elizabeth "Izzy" Johnson, her mother's sister, who managed to escape from Avonlea to the bustling city of St. Catharines. An opinionated spinster, Aunt Izzy's talent as a seamstress has allowed her to build a thriving business and make her own way in the world.

Emboldened by her aunt, Marilla dares to venture beyond the safety of Green Gables and discovers new friends and new opportunities. Joining the Ladies Aid Society, she raises funds for an orphanage run by the Sisters of Charity in nearby Nova Scotia that secretly serves as a way station for runaway slaves from America. Her budding romance with John Blythe, the charming son of a neighbor, offers her a possibility of future happiness—Marilla is in no rush to trade one farm life for another. She soon finds herself caught up in the dangerous work of politics, and abolition—jeopardizing all she cherishes, including her bond with her dearest John Blythe. Now Marilla must face a reckoning between her dreams of making a difference in the wider world and the small-town reality of life at Green Gables.
Friday Black by Nana Kwame Adjei-Brenyah, which I purchased at the Gaithersburg Book Festival.
A piercingly raw debut story collection from a young writer with an explosive voice; a treacherously surreal, and, at times, heartbreakingly satirical look at what it's like to be young and black in America.

From the start of this extraordinary debut, Nana Kwame Adjei-Brenyah's writing will grab you, haunt you, enrage and invigorate you. By placing ordinary characters in extraordinary situations, Adjei-Brenyah reveals the violence, injustice, and painful absurdities that black men and women contend with every day in this country.

These stories tackle urgent instances of racism and cultural unrest, and explore the many ways we fight for humanity in an unforgiving world. In "The Finkelstein Five," Adjei-Brenyah gives us an unforgettable reckoning of the brutal prejudice of our justice system. In "Zimmer Land," we see a far-too-easy-to-believe imagining of racism as sport. And "Friday Black" and "How to Sell a Jacket as Told by Ice King" show the horrors of consumerism and the toll it takes on us all.

Entirely fresh in its style and perspective, and sure to appeal to fans of Colson Whitehead, Marlon James, and George Saunders, Friday Black confronts readers with a complicated, insistent, wrenching chorus of emotions, the final note of which, remarkably, is hope.
Other Voices, Other Lives by Grace Cavalieri, which I purchased at the Gaithersburg Book Festival.
Other Voices, Other Lives is a selection of poems, plays, and interviews drawn from over 40 years of work by one of America's most beloved and influential women of letters. Grace Cavalieri writes of women's lives, loves, and work in a multitude of voices. The book also includes interview excerpts from her public radio series, The Poet & the Poem. Her incisive interviews with Robert Pinsky, Lucille Clifton, and Josephine Jacobsen offer profound insights into the writing life.

This series is devoted to career-spanning collections from writers who meet the following three criteria: The majority of their books have been published by independent presses; they are active in more than one literary genre; and they are consistent and influential champions of the work of other writers, whether through publishing, reviewing, teaching, mentoring, or some combination of these. Modeled after the "readers" popular in academia in the mid-20th centuries, our Legacy Series allows readers to trace the arc of a significant writer's literary development in a single, representative volume.
Green Card & Other Essays by Áine Greaney for review.
In Green Card and Other Essays, Áine Greaney invites her readers to follow her three-decades' long journey from Irish citizen and resident to new immigrant and green card holder to dual citizenship that now includes naturalized U.S. citizenship. These first-person essays offer an intimate perspective on the challenges—fear, displacement, assimilation and dueling identities—faced by many immigrants from all countries. They explore what inspires us to commit to a new country—and what holds us back. As a collection, Green Card exemplifies the power of storytelling to build bridges of understanding and a deeper joy in our shared humanity.
What did you receive?