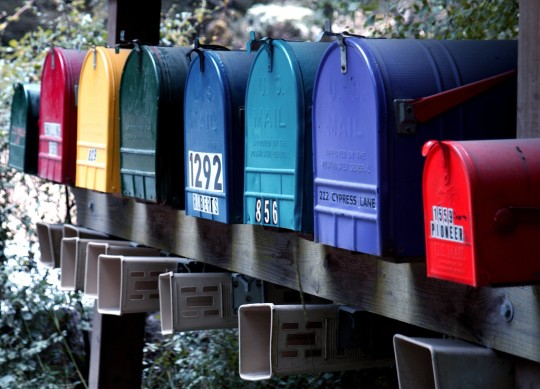 Mailbox Monday has become a tradition in the blogging world, and many of us thank Marcia of The Printed Page for creating it.
It now has it's own blog where book bloggers can link up their own mailbox posts and share which books they bought or which they received for review from publishers, authors, and more.
Leslie, Martha, and I also will share our picks from everyone's links in the new feature Books that Caught Our Eye. We hope you'll join us.
Here's what we received:
Forward: A Memoir by Abby Wambach from Audible.
Abby Wambach has always pushed the limits of what is possible. Named by Time magazine as one of the most influential people of 2015, the iconic soccer player captured the nation's heart when she led her team to its recent World Cup championship. Admired for her fearlessness and passion, Abby is a vocal advocate for women's rights and equal opportunity, pushing to translate the success of her team to the real world. She has become a heavily requested speaker to a wide a range of audiences, from college students to executives at Fortune 500 companies.

In Forward, Abby recounts her own decisions, wins, and losses and the pivotal moments that helped her become the world-class athlete and leader she is today. Wambach's book goes beyond the soccer field to reveal a soulful person grappling with universal questions about how we can live our best lives and become our truest selves. Written with honesty and heart, Forward is an inspiring blueprint for individual growth and a rousing call to action.
Grateful American: A Journey from Self to Service by Gary Sinise, Marcus Brotherton from Audible.
As a kid in suburban Chicago, Gary Sinise was more interested in sports and rock 'n' roll than reading or schoolwork. But when he impulsively auditioned for a school production of West Side Story, he found his purpose – or so it seemed.

Within a few years, Gary and a handful of friends created what became one of the most exciting and important new theater companies in America. From its humble beginnings in a suburban Chicago church basement and eventual move into the city, the Steppenwolf Theatre Company launched a series of groundbreaking productions, igniting Gary's career along with those of John Malkovich, Joan Allen, Gary Cole, Laurie Metcalf, Jeff Perry, John Mahoney, and others. Television and film came calling soon after, and Gary starred in Of Mice and Men (which he also directed) and The Stand before taking the role that would change his life in unforeseeable ways: Lieutenant Dan in the Academy Award-winning Forrest Gump.

The military community's embrace of the character of the disabled veteran was matched only by the depth of Gary's realization that America's defenders had not received all the honor, respect, and gratitude their sacrifices deserve. In the aftermath of the September 11 attacks, this became Gary's mission. While starring in hits like Apollo 13, Ransom, Truman, George Wallace, CSI:NY, and Criminal Minds: Beyond Borders, Gary has worked tirelessly on behalf of those who serve this country…entertaining more than a half-million troops around the world playing bass guitar with his Lt. Dan Band, raising funds on behalf of veterans, and founding the Gary Sinise Foundation with a mission to serve and honor America's defenders, veterans, first responders, their families, and those in need.
Becoming the Enchantress by Kristin Kowalski Ferragut, illustrated by Coley Dolmance Ferragut from the publisher, which I'll likely giveaway when I review Kristin's book that she signed for me.
Becoming the Enchantress is the story of a transgender parent that faces personal longing for change. Given the acceptance and encouragement of her children, the parent magically transforms from a Wizard into an Enchantress on Halloween night. The story highlights themes of acceptance and the love between child and parent. Becoming the Enchantress is unique in that it is written for children whose parent is the one discovering their dysphoria and seeking reassignment, rather than that of the child or teenager themselves.

Becoming the Enchantress fills a heretofore neglected niche in children's literature. It conveys the struggle of a parent to find, in this case, her true identity, and the children's loving acceptance of it. It should prove a useful resource for families with a transgender or non-binary parent.

-W. Luther Jett, retired Special Educator, Montgomery County Public Schools, author of Our Situation and Everyone Disappears

Becoming the Enchantress is a beautiful story about a life-changing transition. It uses imagery that children can understand to discuss a difficult topic. The book details the emotions of someone who is learning how to be their true self. The story shows that while children may not fully understand the issue, they are accepting and are willing to love others for who they are. -Stacy Whipp, M.Ed.

A wonderful story for all ages of unconditional love and acceptance for people! Be true to who you are and love yourself and you will feel completely fulfilled. This story teaches us that no matter what, a person's heart and soul is what defines them. -Katherine R Stull, LCSW-C

Becoming the Enchantress is a wonderful tale for anyone who has questioned their identity or has loved someone doing so. It treats the delicate subject in the most loving way possible, with gorgeous illustrations, spotlighting the magic that positive self-image and family acceptance can create. – Michelle Zibrat, Art Educator

I am both the parent of a trans child and a therapist that supports transitioning children, teens and adults. I love Becoming the Enchantress as it is a lovely story that explains the need to transition from your sex assigned at birth to your true self. Children will connect both with the Wizard and his family in this story. Using the experience of "trying on" a different persona is a lovely way to introduce the children to the wizard and the concept of transitions. -Theresa Fraser, CYC-P, CPT-S, NSCCT, MA, RP, Trauma and Loss Clinical Specialist
What did you receive?