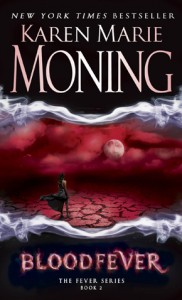 Bloodfever by Karen Marie Moning is the second book in the MacKayla Lane fantasy/paranormal series. Like book one, Darkfever (click for my review), Mac is still learning about her skills as a sidhe-seer and attempting to navigate the world she's familiar with and the world of the Faery.
"If I've been guilty of anything, it's having the blithely sunny disposition of someone who enjoyed a happy childhood, loving parents, and long summers of lazy-paddling ceiling fans and small-town drama in the Deep South which–while it's great–it doesn't do a thing to prepare you for life beyond that."  (page 17)
She's since discovered who murdered her sister, learned about her unknown heritage, and allied herself with an enigma Jericho Barrons, who oozes male sexuality and danger.  On the flip side, Mac remains cautiously intrigued by the Fae prince, V'Lane, who can bend reality to suit his needs and that of humans giving them what they desire most, but at a price.  Mac often wonders where the normalcy in her life has gone, but she attempts to make her life as normal by day as she could from cleaning the bookshelves to servicing customers.
"The Fae prince raised his brow but said nothing.
I raised a brow back.  He was Pan, Bacchus, and Lucifer, painted a thousand shades of to-die-for.  Literally."  (page 38)
Mac and Jericho continue to search for the tools that will improve their chances against the Fae, while still searching for the darkest book, the Sinsar Dubh — a book that makes her feel dreadfully ill when it is near and pass out unconscious if it is near for too long.  Assassins and sinister Fae are at every turn, but Mac has discovered she is not as alone as she believed.
Bloodfever is a natural progression from the first book in the series, and readers will enjoy the fast-paced plot provided.  Moning is developing Mac in a slow and natural progression, allowing readers to uncover her hidden strengths as she discovers them and cheering her on when she asserts herself, even against the darkest Fae and criminals in Ireland and Wales.
About the Author:
Karen Marie Moning was born in Cincinnati, Ohio, one of four children. She graduated from Purdue University with a BA in Society and Law. After a decade of working with insurance litigation and arbitration, she quit her job to pursue her dream of a writing career. Four manuscripts and countless part-time jobs later, Beyond the Highland Mist was published by Bantam Dell and nominated for two prestigious RITA awards. Author of the beloved HIGHLANDER series and the thrilling new FEVER series, featuring MacKayla Lane, a sidhe seer. Her novels have appeared on The New York Times, USA Today, and Publisher's Weekly bestsellers lists, and have received many industry awards, including the RITA.
Thanks to TLC Book Tours, Karen Marie Moning, and Random House for sending me a review copy of this book.
Please check out the rest of the Karen Marie Moning blog tour.
This is my 15th book for the 2010 Thriller & Suspense Reading Challenge.