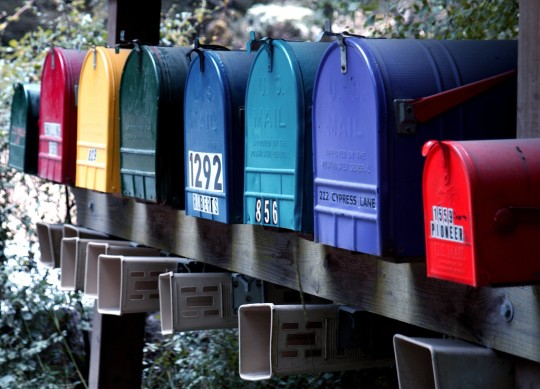 Mailbox Monday has become a tradition in the blogging world, and many of us thank Marcia of The Printed Page for creating it.
It now has it's own blog where book bloggers can link up their own mailbox posts and share which books they bought or which they received for review from publishers, authors, and more.
Leslie, Martha, and I also will share our picks from everyone's links in the new feature Books that Caught Our Eye. We hope you'll join us.
The Home Front: Life in America During World War II by Dan Gediman and Martha C. Little from Audible.
Narrated by Emmy Award–winning actor Martin Sheen, The Home Front: Life in America During World War II takes listeners into the lives of Americans at home—part of the Greatest Generation—who supported the war effort and sustained the country during wartime. The war brought immediate, life-changing shifts: the rationing of meat, dairy products, and sugar; an explosion of war-related jobs; and, despite mixed signals, a greater role for women working outside the home. Thanks to Martin Sheen's performance and the voices of ordinary Americans throughout this Audible Original, listeners can feel what life was like during a disruptive and uncertain period of American history. Martha Little is the Executive Producer, and Dan Gediman is the series producer of The Home Front.
A Jane Austen Christmas: Regency Christmas Traditions: Jane Austen Regency Life, Book 1 by Maria Grace from Audible.
Many Christmas traditions and images of "old fashioned" holidays are based on Victorian celebrations. Going back just a little further, to the beginning of the 19th century, the holiday Jane Austen knew would have looked distinctly odd to modern sensibilities.

How odd? Families rarely decorated Christmas trees. Festivities centered on socializing instead of gift-giving. Festivities focused on adults, with children largely consigned to the nursery. Holiday events, including balls, parties, dinners, and even weddings celebrations, started a week before Advent and extended all the way through to Twelfth Night in January.

Take a step into history with Maria Grace as she explores the traditions, celebrations, games and foods that made up Christmastide in Jane Austen's era. Packed with information and rich with detail from period authors, Maria Grace transports the listener to a longed-for old fashioned Christmas.
What did you receive?