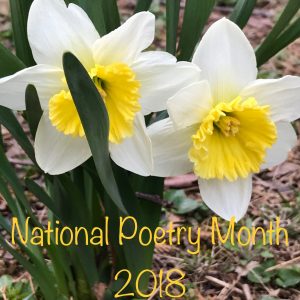 April is often the time when the Internet explodes with posts and articles celebrating poetry. This year is no different.
Even without April's celebration, however, Split This Rock has been celebrating poetry and activism for 10 years. On this 10-year anniversary, some of the best poets will be flooding Washington, D.C.,  April 19-21: Elizabeth Acevedo, Kazim Ali, Ellen Bass, Sherwin Bitsui, Kwame Dawes, Camille T. Dungy, Ilya Kaminsky, Sharon Olds, Sonia Sanchez, Solmaz Sharif, Terisa Siagatonu, Paul Tran, and Javier Zamora.
Even if you cannot afford to go to the panels, there are open to the public readings in the evenings —  1201 15th St., NW:
Thursday, April 19 | 7-8:30 PM
Camille T. Dungy, Sharon Olds, Javier Zamora
Friday, April 20 | 7-8:30 PM
Elizabeth Acevedo, Sherwin Bitsui, Kwame Dawes, Solmaz Sharif
Saturday, April 21 | 4:15-5:45 PM
Kazim Ali, Ellen Bass, Terisa Siagatonu
Saturday, April 21 | 7:30-9 PM
Ilya Kaminsky, Sonia Sanchez, Paul Tran
I've attended this festival several times, and it is always a life-changing experience.
Beyond April and into May, literary festivals continue. In Gaithersburg, Md., residents and authors will meet on the City Hall grounds on May 19, 10 a.m. to 6 p.m.
This is another go-to festival for me: Gaithersburg Book Festival
The authors I'm most looking forward to are: Kim Roberts and her Literary Guide to Washington, D.C., Gayle Forman and her latest I Have Lost My Way, Deborah Heiligman and her book Vincent and Theo: The Van Gogh Brothers, Gareth Hinds and his illustrated book Poe, Alma Katsu and her latest The Hunger, and Kateema Lee, who read at the last DiVerse Gaithersburg Poetry Reading, with Almost Invisible.
I'll be there on May 19, will you?
Also, in case you missed it, there was a wonderful piece in The New York Times about our U.S. Poet Laureate Tracy K. Smith and her work to bring poetry to rural areas as a cure for our currently toxic culture.
In the piece, she said, "I want to just go to places where writers don't usually go, where people like me don't usually show up, and say: 'Here are some poems. Do they speak to you? What do you hear in them?'"
It's a wonderful piece and well worth the read.