Source: QuartoKnows
Postcards, 20
I am an Amazon Affiliate
Scratch and Create: Enchanted Forest: 20 Original Art Postcards by Kailey Whitman comes with its own tool for scratching off the metallic coating, and it has its own plastic storage space attached to the book.  Kids may want to be careful with the plastic storage case, as it could easily be ripped off or damaged when trying to access the tool.  Others shouldn't have a problem at all.
My daughter hasn't had a chance to use these yet, but I'm sure that she will soon.  I, on the other hand, have had a stressful few weeks and was looking for something mindless to do and relieve stress.  This seemed to provide some relief, especially as I've had very little time to do anything outside of work and other life projects. I'm going to send my first one out this week.  I hope that my cousin will be able to take a picture because I want to see how well it arrives to her. I'll keep you posted on that.
You will want to place even pressure on the tool to scrap away the metallic coating and not too much pressure because it will tear away the coloring underneath if you are not careful.  You'll see the little bit of color that I tore away on my near the bottom of the bird on the left-hand side at the bottom of the postcard. I was a little bummed, but learned how to add just enough pressure to make the image appear. You can also use a coin if you'd rather do that. I tested it out and it works just as well.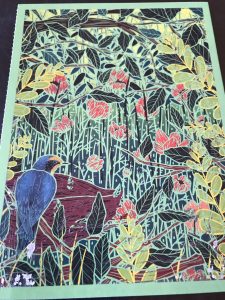 Scratch and Create: Enchanted Forest: 20 Original Art Postcards by Kailey Whitman is a good way to send art in the mail and keep in touch with family or friends.  It's as fun as a scratch ticket from the convenience store, but with much better results.
RATING: Quatrain
About the Illustrator:
Kailey Whitman is a Philadelphia based illustrator and designer. She is a graduate of the University of the Arts illustration program and when she's not drawing, she is thinking about drawing.
Her work has been recognized by the society of illustrators 2016 student competition and she was the recipient of the Roger T. hane award. Her work has been featured on behance, brown paper bag, and she was named one of Adobe Creative Cloud's Artists to watch.
clients include the new york times | the village voice | The Phoenix New Times |grid magazine |Main Line Today | Cincinnati Magazine | Delicious Living Magazine | middlebury college magazine | At Buffalo Magazine | Parragon | Quarto | wASHINGTON SQUARE WEST CIVIC ASSOCIATION |eastern state penitentiary.