Mailbox Monday, created by Marcia at To Be Continued, formerly The Printed Page, has a permanent home at its own blog.
To check out what everyone has received over the last week, visit the blog and check out the links.  Leave yours too.
Also, each week, Leslie, Vicki, and I will share the Books that Caught Our Eye from everyone's weekly links.
Here's what I received: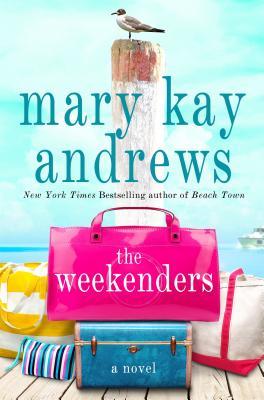 The Weekenders by Mary Kay Andrews from Tandem Literary for review.  She'll also be at the Gaithersburg Book Festival in May!
Some people stay all summer long on the idyllic island of Belle Isle, North Carolina. Others come only for the weekends-and the mix between the regulars and "the weekenders" can sometimes make the sparks fly. Riley Griggs has a season of good times with friends and family ahead of her on Belle Isle when things take an unexpected turn. While waiting for her husband to arrive on the ferry one Friday afternoon, Riley is confronted by a process server who thrusts papers into her hand. And her husband is nowhere to be found.

So she turns to her island friends for help and support, but it turns out that each of them has their own secrets, and the clock is ticking as the mystery deepens…in a murderous way. Cocktail parties aside, Riley must find a way to investigate the secrets of Belle Island, the husband she might not really know, and the summer that could change everything.
Pride & Prejudice & Zombies by Jane Austen and Seth Grahame-Smith, illustrated by Roberto Parada, a win from the PPZ movie blitz — and it's signed!
"It is a truth universally acknowledged that a zombie in possession of brains must be in want of more brains." So begins Pride and Prejudice and Zombies, an expanded version of the beloved Jane Austen novel featuring all-new scenes of bone-crunching zombie mayhem. This deluxe heirloom edition includes a new preface by coauthor Seth Grahame-Smith, thirteen oil painting illustrations by Roberto Parada, and a fascinating afterword by Dr. Allen Grove of Alfred University. Best of all, this limited special edition features an incredible 30 percent more zombies—via even more all-new scenes of carnage, corpse slaying, and cannibalism. Complete with a satin ribbon marker and a leatherette binding designed to endure for generations, this hardcover volume honors a masterpiece of classic zombie literature.
Fingerprint Monsters and Dragons: Fun Art with Fingers Thumbs and Paint – And 100 Other Adventurous Creatures – Amazing Art for Hands-on Fun by Ilona Molnar for review.
Create engaging art activities with your children – at home or in the classroom. Packed with fun step-by-step instructions, this book teaches you how to make 30 classic fictional foes including trolls, pirates, warlocks, and skeletons with only the tips of your fingers. Create your own fantasy world, no paintbrush required! Kids aren't the only ones who will enjoy it, artists of all ages can put their finger on the fun of art. Use the characters to spice up you art journals and doodles. Creativity is at your fingertips!
What did you receive?