Mailbox Monday, created by Marcia at To Be Continued, formerly The Printed Page, has a permanent home at its own blog.
To check out what everyone has received over the last week, visit the blog and check out the links.  Leave yours too.
Also, each week, Leslie, Vicki, and I will share the Books that Caught Our Eye from everyone's weekly links.
Here's what I received:
My Last Continent by Midge Raymond from the author for review.
It is only at the end of the world—among the glacial mountains, cleaving icebergs, and frigid waters of Antarctica—where Deb Gardner and Keller Sullivan feel at home. For the few blissful weeks they spend each year studying the habits of emperor and Adélie penguins, Deb and Keller can escape the frustrations and sorrows of their separate lives and find solace in their work and in each other. But Antarctica, like their fleeting romance, is tenuous, imperiled by the world to the north.

A new travel and research season has just begun, and Deb and Keller are ready to play tour guide to the passengers on the small expedition ship that ferries them to their research destination. But this year, Keller fails to appear on board. Then, shortly into the journey, Deb's ship receives an emergency signal from the Australis, a cruise liner that has hit desperate trouble in the ice-choked waters of the Southern Ocean. Soon Deb's role will change from researcher to rescuer; among the crew of that sinking ship, Deb learns, is Keller.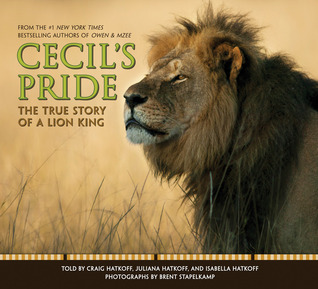 Cecil's Pride: The True Story of a Lion King by Craig Hatkoff, Juliana Hatkoff, and Isabella Hatkoff, photographs by Brent Stapelkamp from Anna.
Known as the King of Beasts, the lion has always been a symbol of strength and courage. But there was one real lion that earned the title of Lion King. He was known simply by name: Cecil. News of his tragic death spread across the globe like wildfire, raising questions to an unprecedented level about our relationship to our animals and our planet.

Cecil's Pride is a tale of resilience and responsibility–a triumph out of tragedy. Discover Cecil's struggle as a young lion to survive, his rise to power, and his extraordinary alliance with Jericho, his former arch-rival. Cecil is gone, but his legacy lives on. The world knows the story of how Cecil died. This is the story of how he lived.

Complete with stunning photographs by Brent Stapelkamp, a photographer and lion researcher with the Oxford University Wildlife Conservation Research Unit that has tracked Cecil and his pride for nine years.
National Geographic Kids Chapters: Rascally Rabbits!: And More True Stories of Animals Behaving Badly by Aline Alexander Newman for review from Media Masters Publicity.
These bunnies may look adorable, but there's more than meets the eye! In Rascally Rabbits, meet some rabbits that cause nothing but trouble, a rescue pup who will eat ANYTHING, and a sneaky bear with a taste for treats. Readers won't stop laughing as they read these hilarious–and completely true!–stories. Filled with engaging photos, fast facts, and fascinating sidebars, readers won't want to put this book down.
What did you receive?