Mailbox Monday, created by Marcia at To Be Continued, formerly The Printed Page, has a permanent home at its own blog.
To check out what everyone has received over the last week, visit the blog and check out the links.  Leave yours too.
Also, each week, Leslie, Vicki, and I will share the Books that Caught Our Eye from everyone's weekly links.
Here's what I received: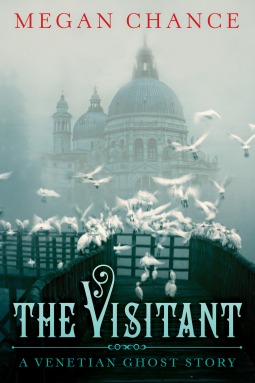 1. The Visitant: A Venetian Ghost Story by Megan Chance for review with TLC Book Tours.
After she nearly ruins her family with a terrible misstep, Elena Spira is sent to Venice to escape disgrace and to atone by caring for the ailing Samuel Farber. But the crumbling and decaying Ca' Basilio palazzo, where Samuel is ensconced, holds tragic secrets, and little does Elena know how profoundly they will impact her. Soon she begins to sense that she is being watched by something. And when Samuel begins to have hallucinations that make him violent and unpredictable, she can't deny she's in mortal danger.

Then impoverished nobleman Nero Basilio, Samuel's closest friend and the owner of the palazzo, arrives. Elena finds herself entangled with both men in a world where the past seeps into the present and nothing is as it seems. As Elena struggles to discover the haunting truth before it destroys her, a dark force seems to hold Samuel and the Basilio in thrall—is it madness, or something more sinister?
2.  How the Trees Got Their Voices by Susan Andra Lion for review.

Awarded 11 national awards and honors! While camping with a group of girls, Susan Andra Lion was given this tale about trees, nature and also the relationship of living things within a forest ecosystem. This highly visual story book not only presents a fascinating story that children ages 3 and older will enjoy, but also tells a second story about animals, plants, birds, and the Earth itself. Children will learn about the integrated way in which Earth's inhabitants live in relationship to each other, and learn the value of respect for each form of life. This is a unique and marvelous book helps its readers to regard their world as a complex tapestry of life and living things. Children will be delighted by the thumbnail descriptions which surround the outside of each page, inviting them in and helping them learn about the world of the forest and greater ecosystem of Mother Earth.

Winner of the Moonbeam Children's Literacy Award — Mind, Body, Spirit Category. Winner of the Mom's Choice Award Gold Medal; Winner of Creative Child Magazine 2014 Book of the Year; Overall Winner, 2015 Next Generation Indie Awards, Best Design Fiction; Finalist, 2015 Next Generation Indie Awards, New Age Category; National Parenting Publications Awards (NAPPA) Silver award winner; Coalition of Visionary Resources: Winner — Visionary Fiction Category; Winner — People's Choice Award Book of the Year 2015; Finalist, Children's and Teens Books; Finalist, Conscious Living Books; Winner 2015 International Book Awards: Children's Mind/Body/Spirit category.
3. The Storied Life of A.J. Fikry by Gabrielle Zevin, which I purchased at the library for 50 cents.

On the faded Island Books sign hanging over the porch of the Victorian cottage is the motto "No Man Is an Island; Every Book Is a World." A. J. Fikry, the irascible owner, is about to discover just what that truly means.

A. J. Fikry's life is not at all what he expected it to be. His wife has died, his bookstore is experiencing the worst sales in its history, and now his prized possession, a rare collection of Poe poems, has been stolen. Slowly but surely, he is isolating himself from all the people of Alice Island-from Lambiase, the well-intentioned police officer who's always felt kindly toward Fikry; from Ismay, his sister-in-law who is hell-bent on saving him from his dreary self; from Amelia, the lovely and idealistic (if eccentric) Knightley Press sales rep who keeps on taking the ferry over to Alice Island, refusing to be deterred by A.J.'s bad attitude. Even the books in his store have stopped holding pleasure for him. These days, A.J. can only see them as a sign of a world that is changing too rapidly.
What did you receive?