Mailbox Monday, created by Marcia at To Be Continued, formerly The Printed Page, has a permanent home at its own blog.
To check out what everyone has received over the last week, visit the blog and check out the links.  Leave yours too.
Also, each week, Leslie, Vicki, and I will share the Books that Caught Our Eye from everyone's weekly links.
Here's what I received:
1.  The Story Hour by Thrity Umrigar for review from Harper.
An experienced psychologist, Maggie carefully maintains emotional distance from her patients. But when she meets a young Indian woman who tried to kill herself, her professional detachment disintegrates. Cut off from her family in India, Lakshmi is desperately lonely and trapped in a loveless marriage to a domineering man who limits her world to their small restaurant and grocery store.

Moved by her plight, Maggie treats Lakshmi in her home office for free, quickly realizing that the despondent woman doesn't need a shrink; she needs a friend. Determined to empower Lakshmi as a woman who feels valued in her own right, Maggie abandons protocol, and soon doctor and patient have become close friends.
2.  Ladies' Night by Mary Kay Andrews from my mom.
Grace Stanton's life as a rising media star and beloved lifestyle blogger takes a surprising turn when she catches her husband cheating and torpedoes his pricey sports car straight into the family swimming pool.  Grace suddenly finds herself locked out of her palatial home, checking account, and even the blog she has worked so hard to develop in her signature style.  Moving in with her widowed mother, who owns and lives above a rundown beach bar called The Sandbox, is less than ideal.  So is attending court-mandated weekly "divorce recovery" therapy sessions with three other women and one man for whom betrayal seems to be the only commonality.  When their "divorce coach" starts to act suspiciously, they decide to start having their own Wednesday "Ladies' Night" sessions at The Sandbox, and the unanticipated bonds that develop lead the members of the group to try and find closure in ways they never imagined.  Can Grace figure out a new way home and discover how strong she needs to be to get there?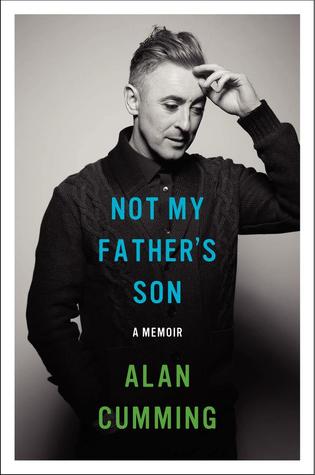 3.  Not My Father's Son by Alan Cumming for review from Harper's It Books.
In his unique and engaging voice, the acclaimed actor of stage and screen shares the emotional story of his complicated relationship with his father and the deeply buried family secrets that shaped his life and career

A beloved star of stage, television, and film—"one of the most fun people in show business" (Time magazine)—Alan Cumming is a successful artist whose diversity and fearlessness is unparalleled. His success masks a painful childhood growing up under the heavy rule of an emotionally and physically abusive father—a relationship that tormented him long into adulthood.

When television producers in the UK approached him to appear on a popular celebrity genealogy show in 2010, Alan enthusiastically agreed. He hoped the show would solve a family mystery involving his maternal grandfather, a celebrated WWII hero who disappeared in the Far East. But as the truth of his family ancestors revealed itself, Alan learned far more than he bargained for about himself, his past, and his own father.
4.  Juliet by Anne Fortier from Anna.
Twenty-five-year-old Julie Jacobs is heartbroken over the death of her beloved Aunt Rose. But the shock goes even deeper when she learns that the woman who has been like a mother to her has left her entire estate to Julie's twin sister. The only thing Julie receives is a key—one carried by her mother on the day she herself died—to a safety-deposit box in Siena, Italy.

This key sends Julie on a journey that will change her life forever—a journey into the troubled past of her ancestor Giulietta Tolomei. In 1340, still reeling from the slaughter of her parents, Giulietta was smuggled into Siena, where she met a young man named Romeo. Their ill-fated love turned medieval Siena upside-down and went on to inspire generations of poets and artists, the story reaching its pinnacle in Shakespeare's famous tragedy.
What did you receive?