Mailbox Monday (click the icon to check out the new blog) has gone on tour since Marcia at To Be Continued, formerly The Printed Page passed the torch.  August's host is Bermudaonion The Reading Fever.
The meme allows bloggers to share what books they receive in the mail or through other means over the past week.
Just be warned that these posts can increase your TBR piles and wish lists.
Here's what I bought/received:
1.  Solving the World's Problems by Robert Lee Brewer, which I purchased.
The "World" in Robert Lee Brewer's Solving the World's Problems is a slippery world … where chaos always hovers near, where we are (and should be) "splashing around in dark puddles." And one feels a bit dizzy reading these poems because (while always clear, always full of meaning) they come at reality slantwise so that nothing is quite the same and the reader comes away with a new way of looking at the ordinary objects and events of life. The poems are brim-full of surprises and delights, twists in the language, double-meanings of words, leaps of thought and imagination, interesting line-breaks. There are love and relationship poems, dream poems, poems of life in the modern world. And always the sense (as he writes) of "pulling the world closer to me/leaves falling to the ground/ birds flying south." I read these once, twice with great enjoyment. I will go back to them often. -Patricia Fargnoli, former Poet Laureate of New Hampshire and author of Then, Something
2.  Pat the Beastie by Henrik Drescher, which I purchased for my daughter's potty prize box for her good deeds.
A warning: "You should never monkey around with a Beastie!" Once upon a time a little boy and girl named Paul and Judy had a pet called Beastie. Unfortunately, Paul and Judy weren't very nice to Beastie. In fact—they were downright naughty. They pulled Beastie's fur and jiggled Beastie's eyes. They tickled his feet and plucked his boogers. "Always be kind to your pets!" they were reminded again and again—but Paul and Judy never listened.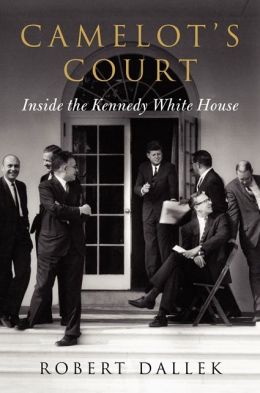 3.  Camelot's Court by Robert Dallek, which came from Harper.
Fifty years after John F. Kennedy's assassination, presidential historian Robert Dallek, whom The New York Times calls "Kennedy's leading biographer," delivers a riveting new portrait of this president and his inner circle of advisors—their rivalries, personality clashes, and political battles. In Camelot's Court, Dallek analyzes the brain trust whose contributions to the successes and failures of Kennedy's administration—including the Bay of Pigs, civil rights, the Cuban Missile Crisis, and Vietnam—were indelible.

Kennedy purposefully put together a dynamic team of advisors noted for their brilliance and acumen, including Attorney General Robert Kennedy, Secretary of Defense Robert McNamara, Secretary of State Dean Rusk, National Security Advisor McGeorge Bundy, and trusted aides Ted Sorensen and Arthur Schlesinger. Yet the very traits these men shared also created sharp divisions. Far from being unified, this was an uneasy band of rivals whose ambitions and clashing beliefs ignited fiery internal debates.
What did you receive?