Hello and welcome to Savvy Verse & Wit.  I'm participating in Armchair BEA for the first time, since I was unable to attend this year for the best of reasons, my new infant daughter ("Wiggles").
I love interviewing authors, publishers, and other bloggers, so I was excited to find out that one of the activities for this year's Armchair BEA was to interview another blogger.
Today, you're going to meet Michelle of The True Book Addict, who loves historical fiction and has a great blog; if you haven't been there, nothing will stop you from checking it out this week, especially after this interview.
1.  My first question is about the origins of your blog, The True Book Addict.  Did you start blogging about books or did it spin off from other blogs or transform from one type of blog into a book blog?
Before I knew there was such a thing as "book blogs", I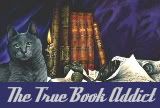 created a MySpace page centered around my being a book addict (The Book Addict).  I had a little blog on there on which I wrote my thoughts about books, but I think maybe one person ever read it. *L*  I met Ryan (Wordsmithonia) on Twitter, and he introduced me to Blogger and book blogging and the rest is history.  I initially named my blog, The Book Addict, like my MySpace page, but soon learned that someone else was using it, hence The True Book Addict.  My reasoning behind this name?  Not true in the sense that I'm the only "true" book addict, but that I am "true" to books!
2.  Were you a book blog reader before starting your own blog? If so, which blogs did you read before beginning your own?
Honestly, as I mentioned, I had no clue about book blogs! The only blog I read was a friend I met on MySpace, author Lisa Kessler.  She had a blog over there and I read her weekly posts.  Lisa just recently got a publishing contract for one of her book series so I can honestly say I knew her when!
3.  Not only do you review books on your blog, but you also are researching your first novel.  Is it historical fiction like many of the books you read, and have those books inspired your novel and how?
I have so many ideas in my head, and yes, they are usually historical . . . sometimes with a paranormal or fantastical twist.  What I'm currently researching is historical.  The historical novels I read inspire me every day, but they also make me realize just how daunting a task writing a historical novel can be.
4.  Here's a tough question.  As an outsider coming into the book blogging community, did you find it welcoming or did you feel like there were certain cliques that made you feel ostracized?
In my first few months, there was a kind of snafu on the blogs that grew out of a discussion on Twitter.  Something to do with the dos and don't of your blog.  Some of the things were: you shouldn't have music on your blog, you shouldn't have a large header, and other stuff I can't even remember.  I had a playlist on my blog and many people had already told me they liked it.  But I still felt like I was doing it wrong and I felt kind of bad about my blog, at first.
Then I got to thinking.  We started these blogs for ourselves (at least, I did).  I mean it's important to accommodate your readers, but it's also important to be true to yourself.  So, one playlist and large header and almost two years later, I'm still hanging in.  I'm proud of my blog, I love my followers, and I adore the book blogging community.  What at first came across as very clique-y has grown into a home away from home!
5.  Do you think that Armchair BEA will provide you with a similar experience to that of attending the actual convention? Why or why not?
I think what Armchair BEA provides that is similar to being at the convention in person is the sense of camaraderie that meeting up with fellow bloggers supplies.  Yeah, sure, we're not meeting authors in person or rooming or eating out together, but we are still bonding as a group with Armchair BEA and I think that's a lovely substitute.
6.  What makes you want to lurk on people's blogs, but not comment?  And what kinds of posts do you find yourself commenting on most often?
Honestly, I just follow a TON of blogs so I really can't comment on every review/post.  I would never be off the computer! I do comment on reviews of books I have read and/or books that I'm really interested in.  I try to reciprocate with those who comment often on my blog.  You know, return the favor, so to speak.  I find myself commenting more frequently on topics that interest me the most.  History, historical fiction, posts about peoples' pets, especially cats, encouragement to people who are having a hard time of it.  And I do always try to make a meaningful comment so I do not want to just stop and say, "great review", although I have done it.  I am a work in progress though so for those of you out there (ahem…Serena) that I have exposed to my lurking, I WILL try to do better!
7.  Finally, tell us a little more about you.  Some of your quirks, loves, obsessions, and dislikes about blogging, reviewing books, or just anything in life.
Where do I start?  So many quirks and obsessions…and loves! This might be a quirk or an obsession.  I own over 3000 books! That's right, ladies and gentlemen! 1900+ fiction and the rest non-fiction and Christmas books.  And I.keep.buying.more!
I love being a mother.  I have two sons and they can be quite the handful, but they bring joy to my life every day.  I ADORE cats! Hence the Cat Thursday meme every week.  I am very passionate about history and was a history major until recently. Hoping to be able to finish my degree someday.
I love blogging and reviewing books, but sometimes it can feel like a chore.  I had taken on way too many review books and then had a major illness last summer so fell WAY behind.  I've since stopped accepting review books, except for special cases.  It's hard for me to resist books in the historical genre (and sometimes horror and fantasy too).  But I'm proud of myself.  I've been resisting temptation fairly well.
Thank you, Serena, for the wonderful questions.  I hope I didn't ramble on too much!
You're welcome and it was a pleasure.  I hope you'll feel more comfortable to come out of hiding, my lurking friend.  No, you didn't ramble at all!  It was great getting to know a little bit about you, your blog, and your thoughts on the blogging community.
Looking for an interview with me?  Check out The Story Factory Reading Zone.