Today, I'd like to welcome Melanie of The Indextrious Reader today to discuss the physiological impact of reciting poetry.  Please give her a warm welcome.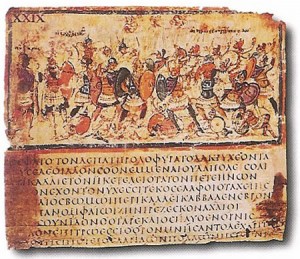 When we think about poetry, we often think about the emotional pull of beautifully phrased, carefully formed words. But there are many sides to a poem. Part of the reason poetry is an ever-present part of human experience, from our beginnings right up to today, is because of the way it speaks to all aspects of our lives.
One area we don't usually think of poetry being a big part of is our physical life. How can a poem affect day-to-day life from a physical standpoint? There have been some intriguing studies on this very subject.
The classic study in this field is research done in 2004. German researchers studied the effect of reading The Iliad aloud — specifically due to its hexameter format. This is a form specific to Greek and Roman classical works, and the rhythm seems based on a breathing pattern which would make these long poems easy to recite. This makes sense as recitation would have been the usual method of hearing these poems. According to this study, reading The Iliad produced intermittent cardiac synchronization – essentially, heart and breathing rates fell into step more frequently due to this practice. Cardiac synchronization and an enhanced regulation of blood pressure, both outcomes of this study, are beneficial for post-heart attack patients. This raises an interesting point about why and how this ancient poetic form came to be; were our ancient forebears aware of this physical benefit in some way? You can read a summary of the original study by Cysarz, Betterman et. al. if you want all the scientific detail on this fascinating subject. Scientific American also reported on this research but in a much more general way, with some interesting quotes and further ideas put forth.
Other kinds of poetry have been known to have strong equalizing effects on breathing and blood pressure patterns as well. These are mostly religious verses, such as the Catholic Rosary, or the OM Mantra, according to the Science Blog. Both of these result in an approximate breathing pattern of six breaths a minute, which positively affects regulation of blood pressure.
So next time you are feeling in need of a stress break, do yourself a favour — take a deep breath, and recite a few verses of The Iliad aloud, or try out your favourite religious chant. If nothing else, you should get some time to yourself this way!
Thanks so much, Melanie.