Mailbox Monday
has become a tradition in the blogging world, and many of us thank Marcia of The Printed Page for creating it.
It now has it's own blog where book bloggers can link up their own mailbox posts and share which books they bought or which they received for review from publishers, authors, and more.
Leslie, Martha, and I also will share our picks from everyone's links in the new feature Books that Caught Our Eye. We hope you'll join us.
Here's what we received:
The Complete Cookbook for Young Chefs: 100+ Recipes that You'll Love to Cook and Eat from America's Test Kitchen Kids, which I purchased for my daughter.
For the first time ever, America's Test Kitchen is bringing their scientific know-how, rigorous testing, and hands-on learning to KIDS in the kitchen!

Using kid-tested and approved recipes, America's Test Kitchen has created THE cookbook every kid chef needs on their shelf. Whether you're cooking for yourself, your friends, or your family, The Complete Cookbook for Young Chefs has delicious recipes that will wow!

Recipes were thoroughly tested by more than 750 kids to get them just right for cooks of all skill levels―including recipes for breakfast, snacks and beverages, dinners, desserts, and more.
Step-by-step photos of tips and techniques will help young chefs feel like pros in their own kitchen
Testimonials (and even some product reviews!) from kid test cooks who worked alongside America's Test Kitchen will encourage young chefs that they truly are learning the best recipes from the best cooks.

By empowering young chefs to make their own choices in the kitchen, America's Test Kitchen is building a new generation of confident cooks, engaged eaters, and curious experimenters.
The Young Chef: Recipes and Techniques for Kids Who Love to Cook from the The Culinary Institute of America, which my daughter received from my cousin for Christmas.
Aspiring chefs turn to The Culinary Institute of America for top-tier training—and now younger cooks can too. Coauthored by chef-instructor (and parent) Mark Ainsworth, this book is for kids ages ten to fourteen who love to cook or who want to learn how, from the perspective of the nation's best culinary college. It begins with techniques—from key cooking methods to staying safe in the kitchen to how food fuels your body—then augments those lessons with more than one hundred recipes for dishes that kids (and their families and friends) will love, from Chinese "Takeout" Chicken and Broccoli to Mexican Street Corn Salad to DIY Hummus to Raspberry Shave Ice. These recipes are easy enough that beginners can try them with confidence, but are loaded with insider tips, fun facts, kitchen vocab, and other teaching moments so that more adventurous junior cooks can use them as a springboard to take their skills to the next level, express their culinary creativity, and have fun in the kitchen!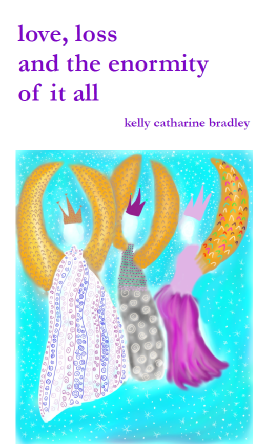 love, loss and the enormity of it all by Kelly Catharine Bradley for review.
This book is for the heartbroken and grieving. I see you."let's… sit close with gentleness and compassion to heal our grieving hearts together …"

"love, loss and the enormity of it all" addresses themes of grief, joy, love, heartbreak and perseverance.
Valuing: Poems by Christopher Kondrich for review.
In his second collection, Christopher Kondrich navigates the link between what we see as our inner value and the external world that supplies it. Valuing's deeply personal poems explore faith, love, ethics, and mortality from a variety of angles and through a variety of poetic forms as a means of questioning the origination of one's own value system. Does it come from the belief in a god, from the love one gives or receives, or from the diminution of the self and its desires? If "you cannot sneak through your life," as the speaker of one of Valuing's poems proclaims, then how might one ensure that the noise a life inevitably makes is an echo of the values one holds dear?
What did you receive?