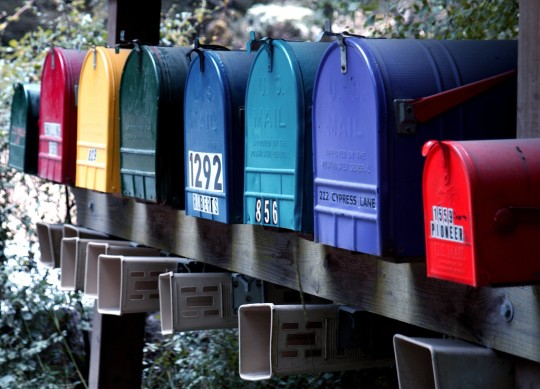 Mailbox Monday has become a tradition in the blogging world, and many of us thank Marcia of The Printed Page for creating it.
It now has it's own blog where book bloggers can link up their own mailbox posts and share which books they bought or which they received for review from publishers, authors, and more.
Leslie, Martha, and I also will share our picks from everyone's links in the new feature Books that Caught Our Eye. We hope you'll join us.
Here's what I received:
Pride & Prejudice & Airships by Caylen McQueen, a Kindle freebie.
It is a truth universally acknowledged, that a single woman in possession of good fortune, must be in want of a husband. Similarly, young men of meager means, such as the Bennet brothers, must be desperate to find a wife.

In an alternate universe where airships rule the sky, women govern the world. Men aren't allowed to join the military, carry firearms, or pilot airships. In fact, a young man's only goal is to attract a wealthy wife. For centuries, unmarried men have been labeled as "spinsirs" and treated like social pariahs. In a world where gentlemen are little more than property, Elisander Bennet longs for something more.

Elisander meets Darcy Fitzwilliam, a military captain who turns up her nose at the Bennets' low birth. She antagonizes Elisander and his family, while secretly resisting a growing attraction to him. Meanwhile, Elisander is robbed and romanced by Georgette Wickham, a flirtatious pirate with a dark reputation.
Smitten with Sense by Keena Richins, a kindle freebie — her recent book Sense Without Sensibility was on blog tour with Poetic Book Tours to rave reviews.
Edward knew he was a lost cause. While on the outside, he had the wealth, the connections, and the prestige everyone dreamed about, but he knew he was trapped in a gilded cage. He stayed under his ruthless mother's thumb out of desperation since her formidable reputation preserved the little freedom he had left thanks to a mistake in his past that waited to destroy him if he made any wrong moves.

Then he meets Elinor—who couldn't be more perfect for him. He finally has a taste of what happiness could be like and despite the danger, wants to keep it. Teaming up with Frank Churchill and Miss Morton might do the trick, but breaking free will be dangerous. To keep Elinor safe, he has to be distant, but will she forgive his coldness or will he lose her no matter what he does?

While interconnected with the other books, "Smitten With Sense" can be read on its own and is a clean/sweet romance with a guaranteed happily ever after.
What did you receive?